We make handmade wood products including dog bowl stands, address planter boxes, garden benches and wall decor. All items are made to order. We do not keep any stock.
Right now we are not shipping any of our items. We only sell in the local area which includes Niantic, East Lyme, Old Lyme, Old Saybrook, Waterford, Salem, Uncasville, Groton, and Mystic, Connecticut. If you live outside of our local area and are willing to drive to pick up your item we are happy to sell it to you.
HOW TO ORDER: Send an email to coastalcreatorsct@gmail.com with the size, colors, name, and font style number you would like.
PICKUP: Our pickup location is at Costco, East Lyme, Connecticut.
PRODUCTION TIME: Everything is made to order so it will take approximately 2 to 7 days before your item is ready for pickup.
PAYMENT: We accept Venmo, cash on delivery and PayPal. You can pay with a credit/debit card with PayPal and do not need a PayPal account to pay. PayPal also has a buyer protection plan.
---
Personalized Wood Pet Bowl Stand
Purchase a personalized wood Dog Bowl Stand for your favorite dog or cat. Each stand comes complete with 2 metal bowls and personalization at no additional cost.
We make these brand new to order. Would make a great holiday gift!
We offer 2 styles of dog and cat bowl stands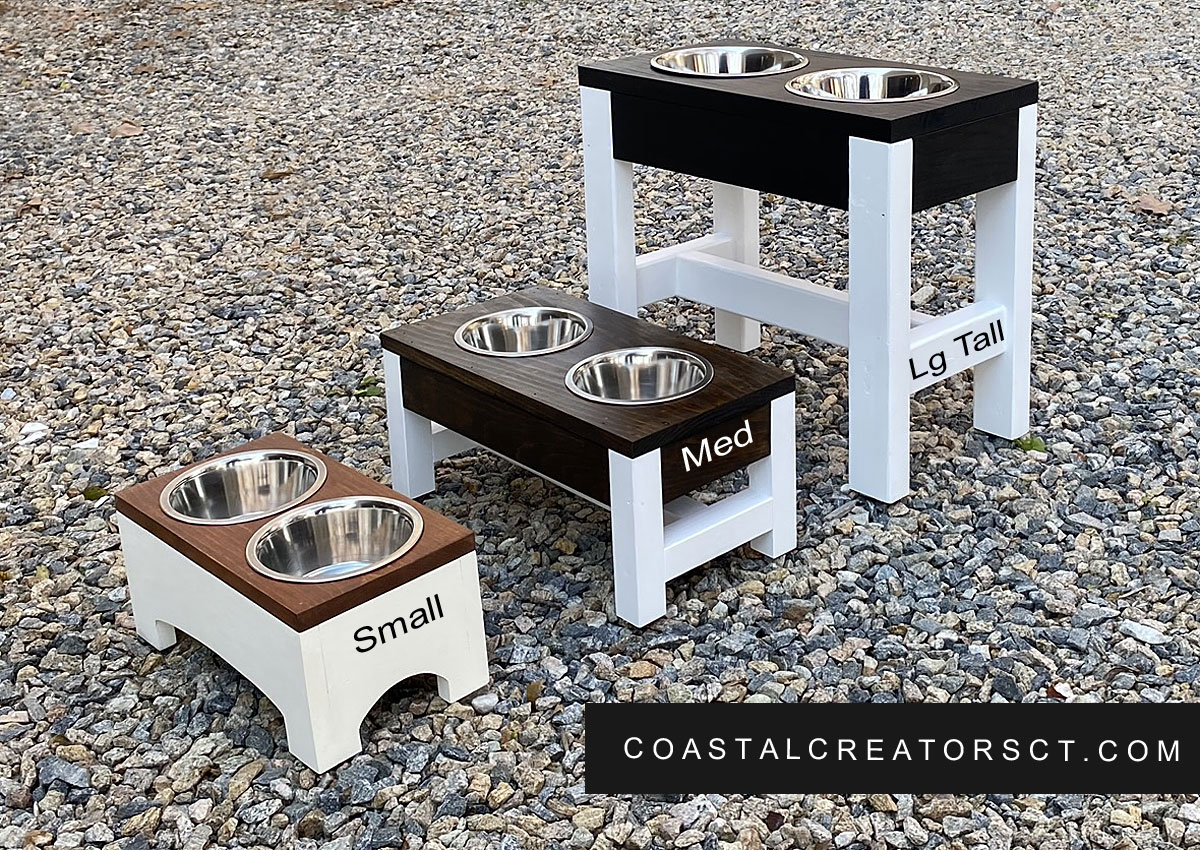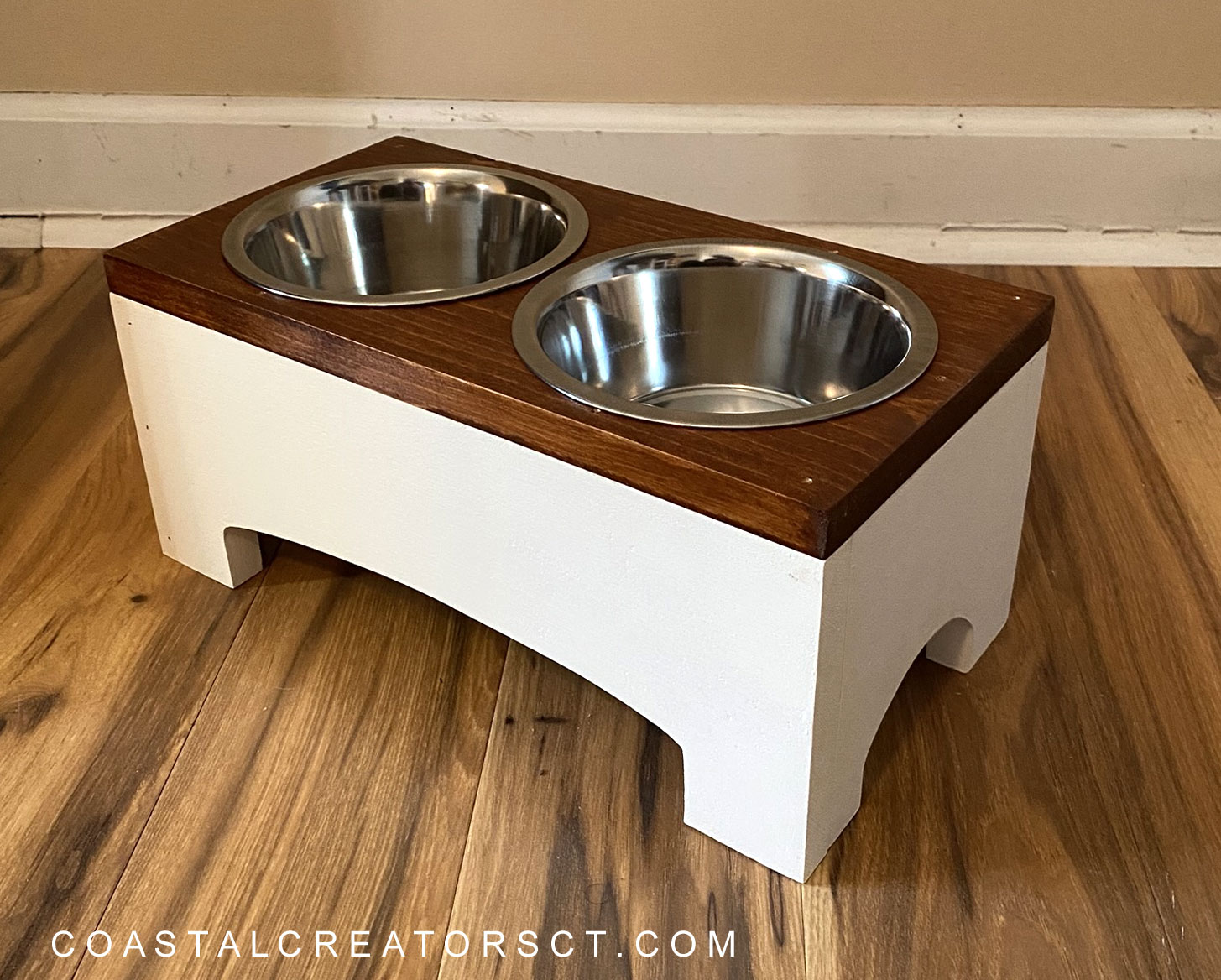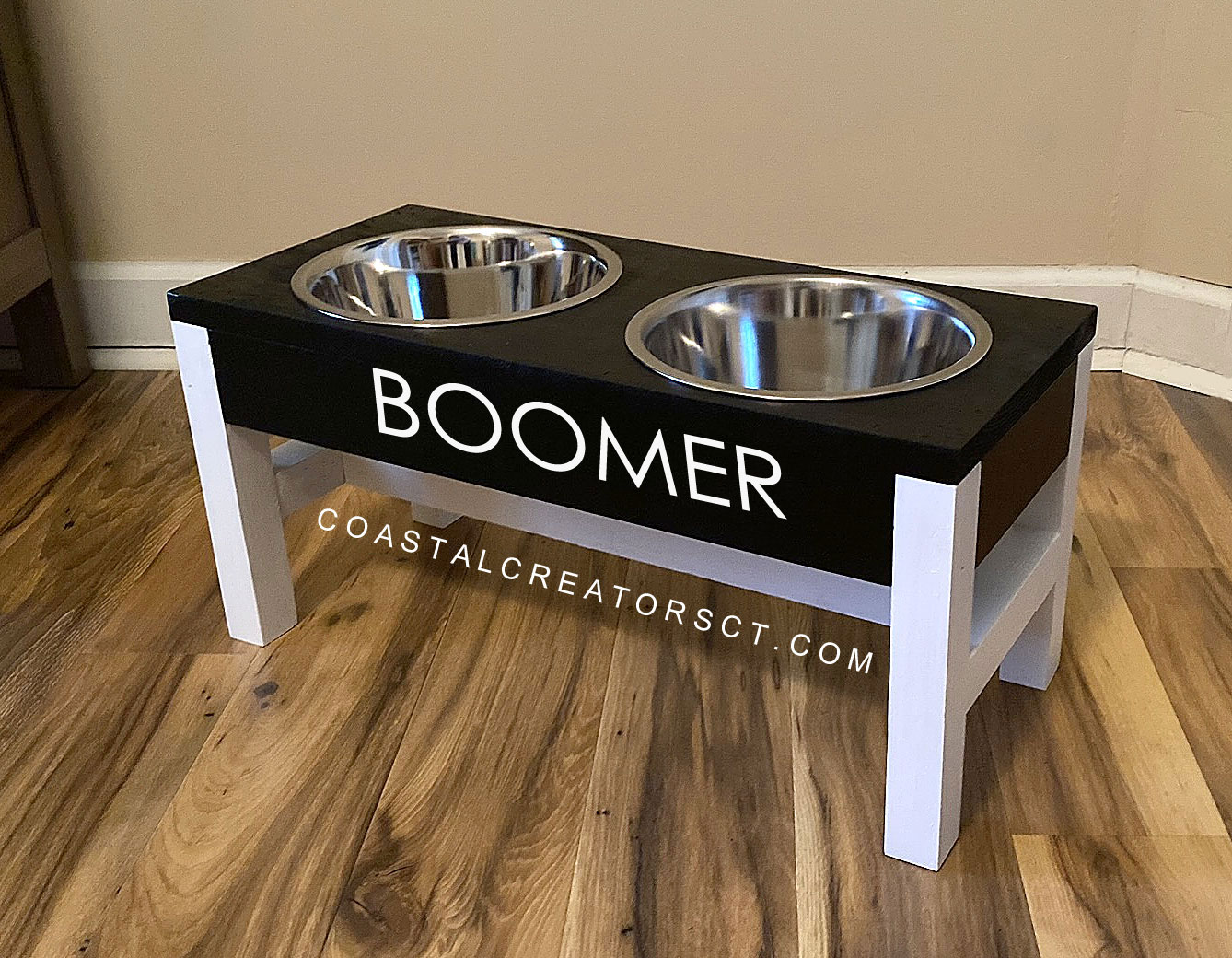 PRICES: $40 (Small), $50 (Medium), $60 (Large), $80 (X-Large), no tax and no additional charge for personalization.
TOP COLORS: Natural, Antique Walnut, Oak, Espresso, or Black.
BOTTOM LEG COLORS: White or Antique White (more of a cream color)
FONT/LETTERING STYLE: There are 4 styles to choose from. See photo for examples.
PROOF: we will send you a mockup image by private message on Facebook, by email or text to show you what yours will look like before you purchase. Contact us coastalcreatorsct@gmail.com
Dog Bowl Stand Sizes (for cats too)
Small Dog/Cat: comes with two 1-quart bowls which holds up 3 cups of dry food. The bowl opening size is 5-1/2″. The whole unit measures 14" long, 5" tall, 7.5" wide
Medium: comes with two 1-quart bowls which holds up 3 cups of dry food. The bowl opening size is 5-1/2″. The whole unit measures 18" long, 8″ tall, 9.5" wide
Large: comes with two 2-quart bowls which holds up 6 cups of dry food. The bowl opening size is 7-1/2″. The whole unit measures 21" long, 12" tall, 11.5" wide
Dog bowl stands make great Christmas, Hanukkah, Kwanzaa, birthday, or anniversary gift for the pet lover in your life.
---
Personalized Home Number Planter Box
Our popular Address Planter box can now be personalized with a name up to 10 letters.
NOTE: Greenery not included.
Our address planter box is handmade out of solid pine wood with satin nickel numbers and an attached planter box. Comes with a slot in the back for hanging.
PERSONALIZED: A name can be added (up to 10 letters only). There are 3 different lettering styles. Or, you can choose a shell image instead.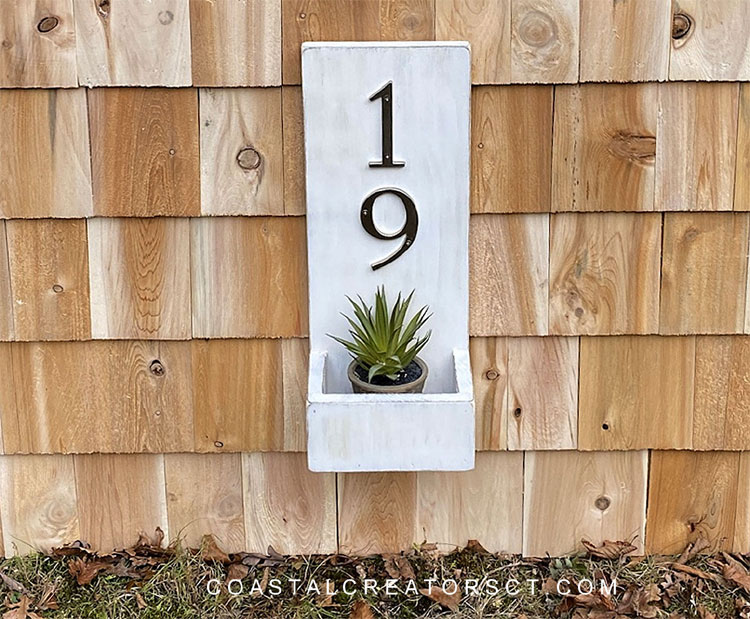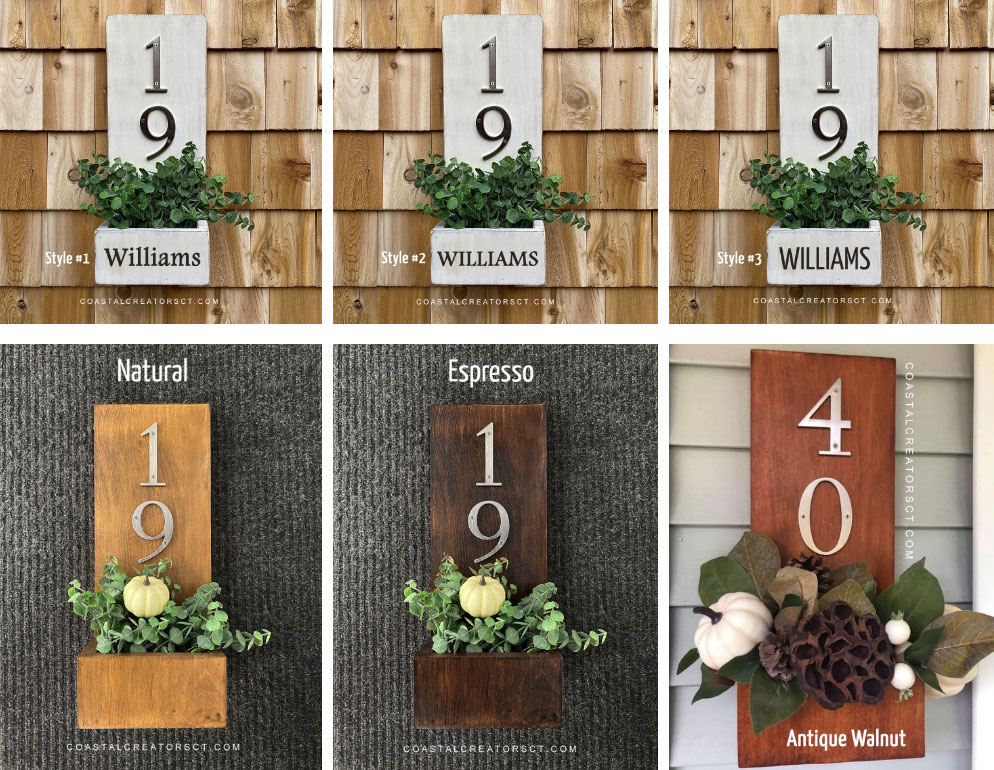 WOOD COLORS: antique white paint, antique walnut stain, espresso stain, natural stain
FINISH: the antique white paint has a distressed finish and clear acrylic for protection. The stained wood is protected with polyurethane.
LETTER COLORS: For antique white the letters are painted a dark grey to match the numbers unless you specify a different color. Letters are painted white or antique white on the stained colors.
Address Planter Box Sizes
1 Number ($25): 10″ high x 7-1/4″ wide x 5″ deep
2 Numbers ($35): 18″ high x 7-1/4″ wide x 5″ deep
3 Numbers ($45): 24″ high x 7-1/4″ wide x 5″ deep
Inside of the Planter Box: 5-5/8″ x 3-3/4″
Hang your address planter box on the outside of your house to display your house number. As long as you have a nail to hang it on it can be displayed anywhere. Also makes a great housewarming, Christmas, anniversary or birthday gift!