Give your home a coastal feel without spending a lot of money with these DIY coastal home style accents. From beach front art to coastal home accents, there is something for every room in the house.
You can easily find supplies like shells, rocks, and even driftwood for free depending on where you live. If you want to recreate some of these coastal accents, you will need to grab a variety of supplies to have on hand. Dollar Tree has many of the items you will need including shells, twine, glass vases and candle holders, burlap ribbon, and even sand. They even have glue guns and glue sticks, Mod Podge, paint and paint brushes, sand paper, tape and glue.
If you need wood, your local Lowe's or Home Depot can supply that but you can also gather free pallets if you search Facebook Marketplace, your local "Buy Nothing" Facebook group and even Craigslist. Sometimes you will spot pallets on the side of the road and you can stop and ask the business owner if you can take them.
Many of these coastal home decor ideas also fit nicely into any Farmhouse style room you have in your home. It even has a name, "Coastal Farmhouse"!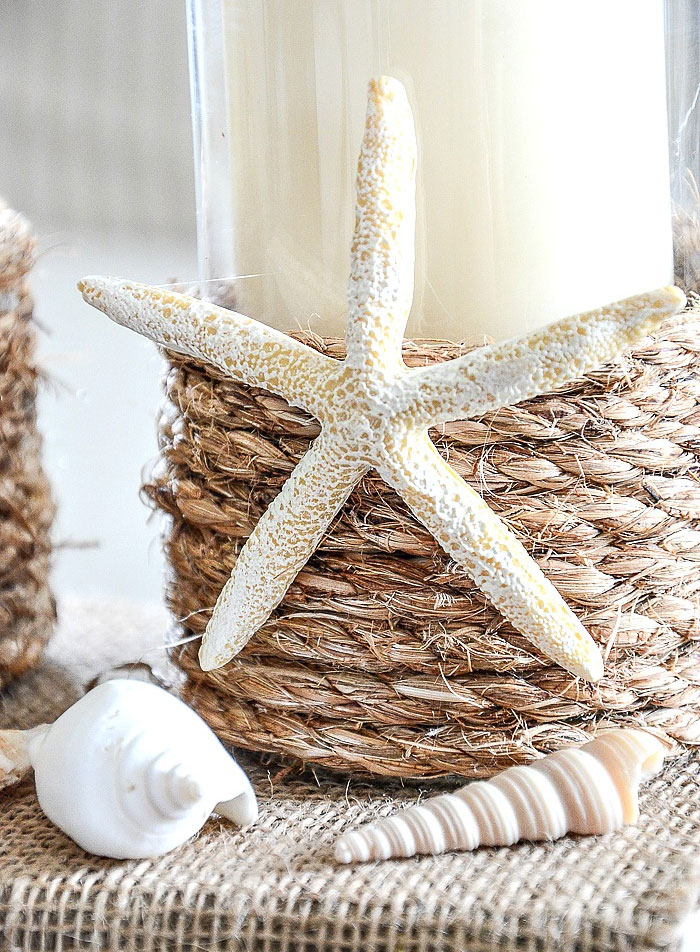 Pottery Barn Inspired Rope Wrapped Sand Dollar Candle holders from Stone Gable give you that high-end look for a lot less.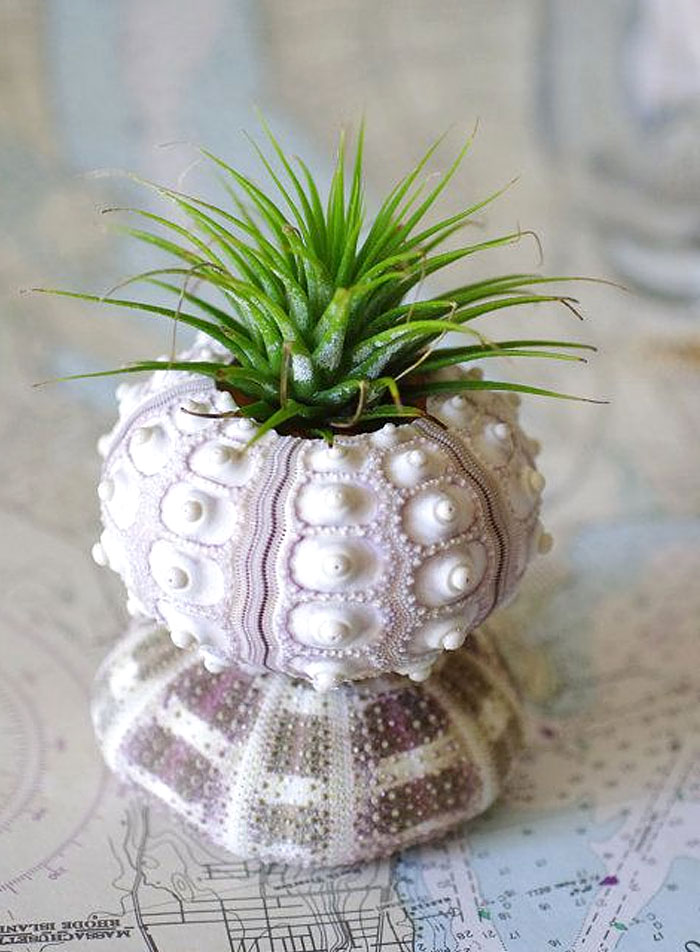 Shell Succulent Planter (source unknown) can be made by taking multiple shells and hot gluing them together.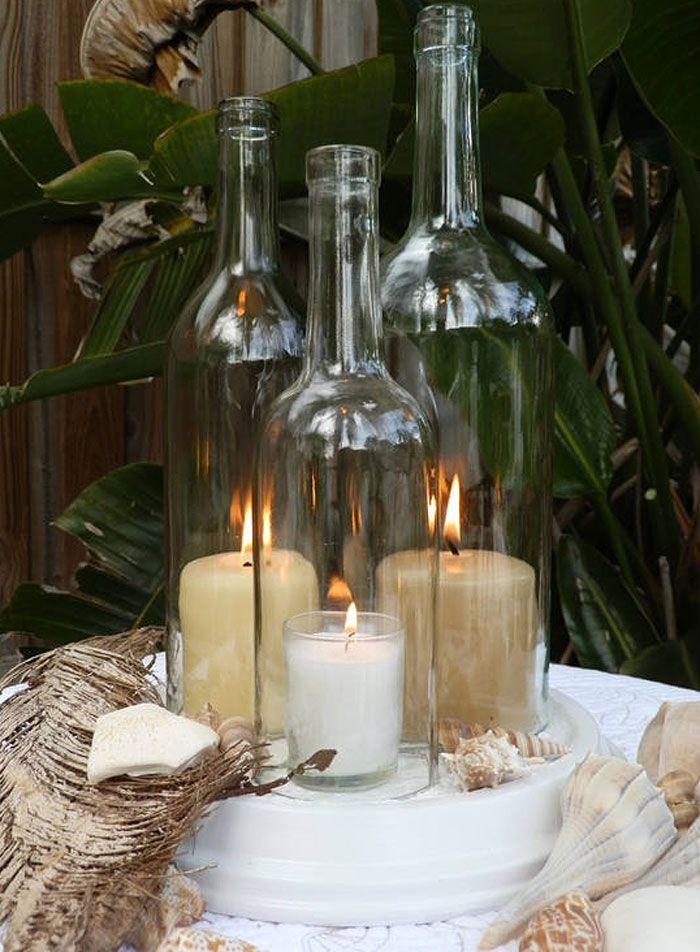 Wine Bottle Candle Centerpiece (source unknown). Get a friend to cut the bottom out of 3 wine bottles of various sizes  and place them on top of candles. It looks so elegant and it didn't cost much to put together.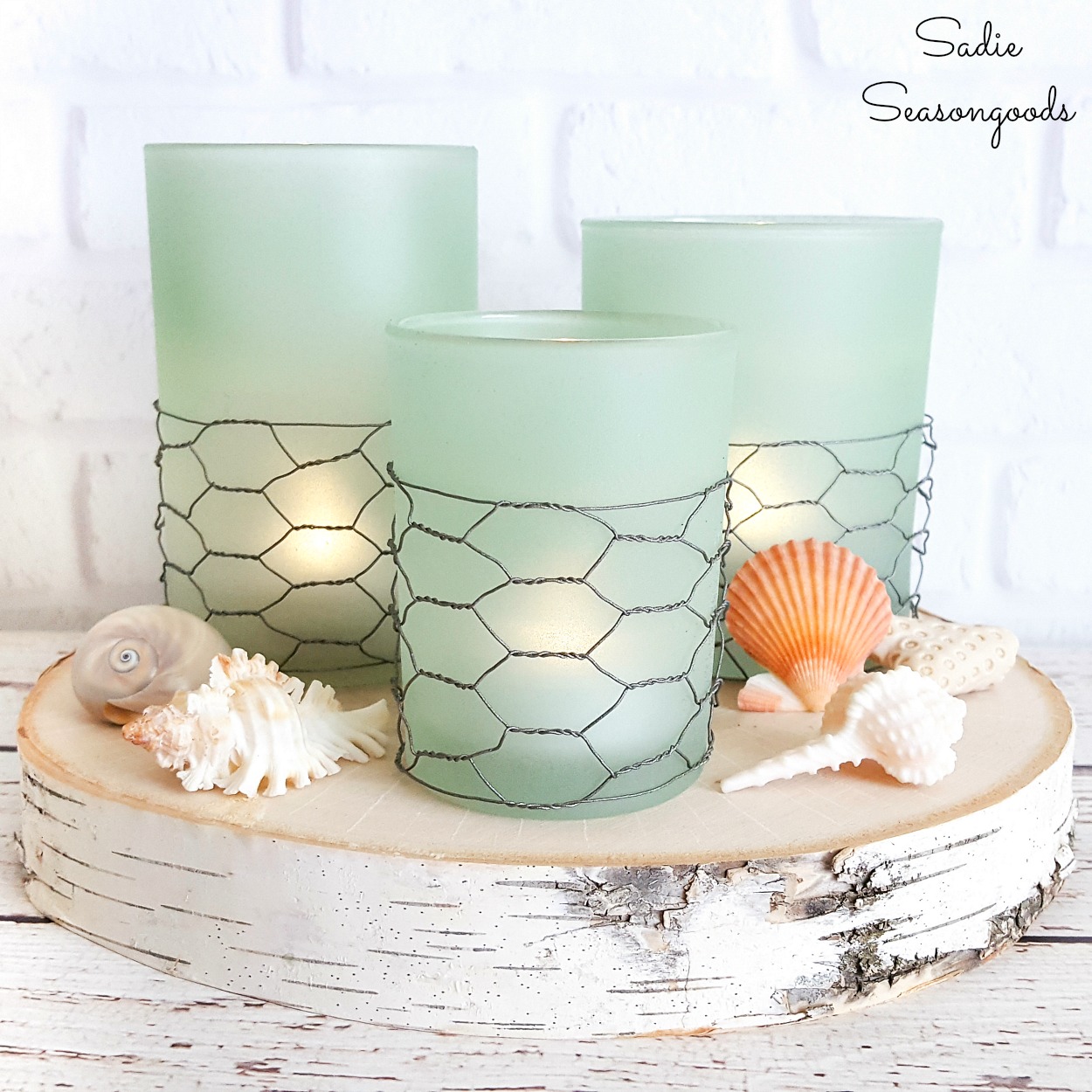 Coastal Sea Glass Farmhouse Candles from Sadie Season Goods combines the look of sea glass with the pattern of fishing net by substituting it for chicken wire.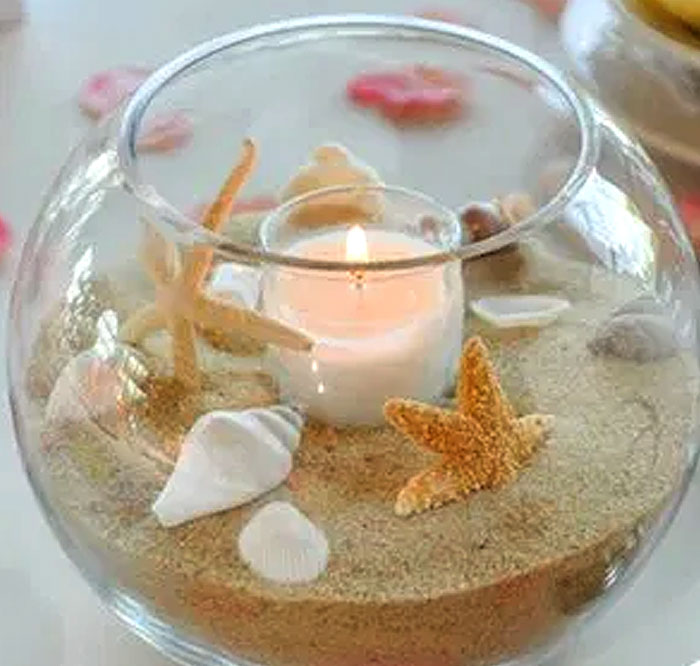 Round Beach Candle Fishbowl Centerpiece (source unknown). Coastal home decor features a lot of blues and sandy color and LOTS of shell. Here's another centerpiece that is shells, sand, a glass fishbowl and a candle.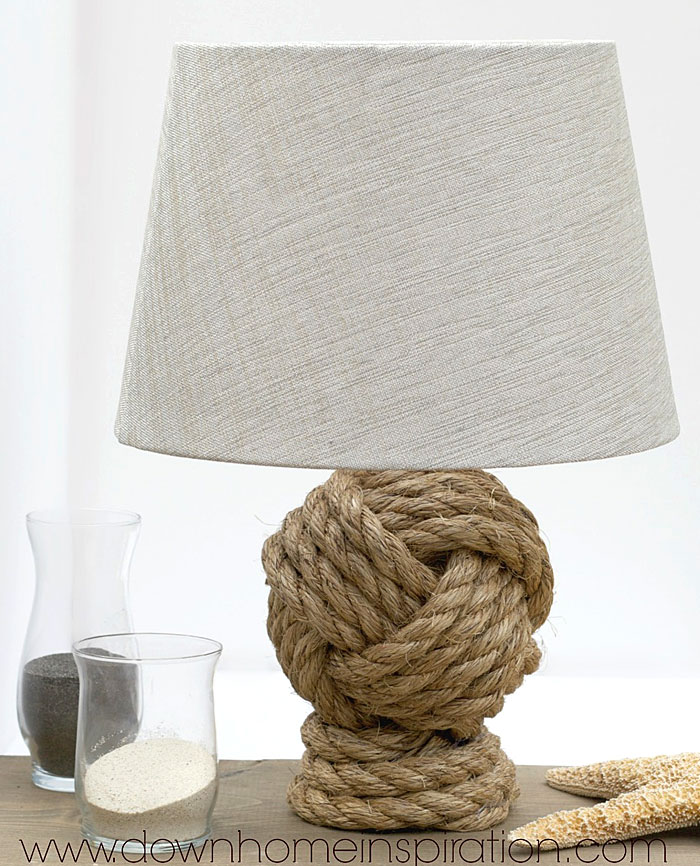 Twine and rope are also a big part of coastal home decor. This Pottery Barn Inspired "Monkey Fist" Rope Knot Lamp made by Down Home Inspiration utilizes basic 3/4″ rope and a little bit of talent to make a monkey fist knot but you'll have a coastal lamp that costs $25 to make instead of $225 to buy.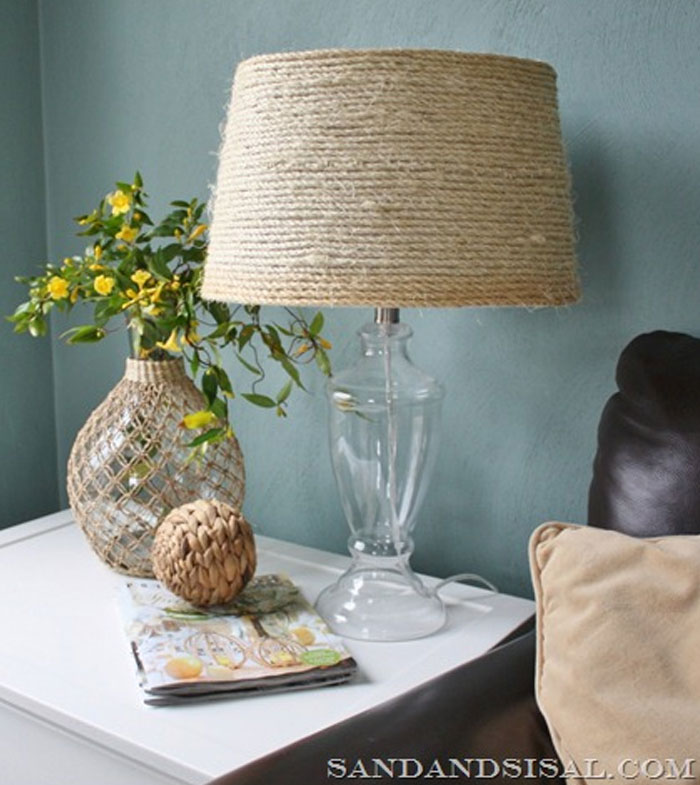 If you have a plain shade you want to turn into a Coastal lampshade, try this DIY Sisal Coastal Lamp Shade idea from Sand and Sisal. All you need is some 1/4″ sisal rope and a glue gun and in an instant you have a natural fiber lampshade to add to your coastal home decor.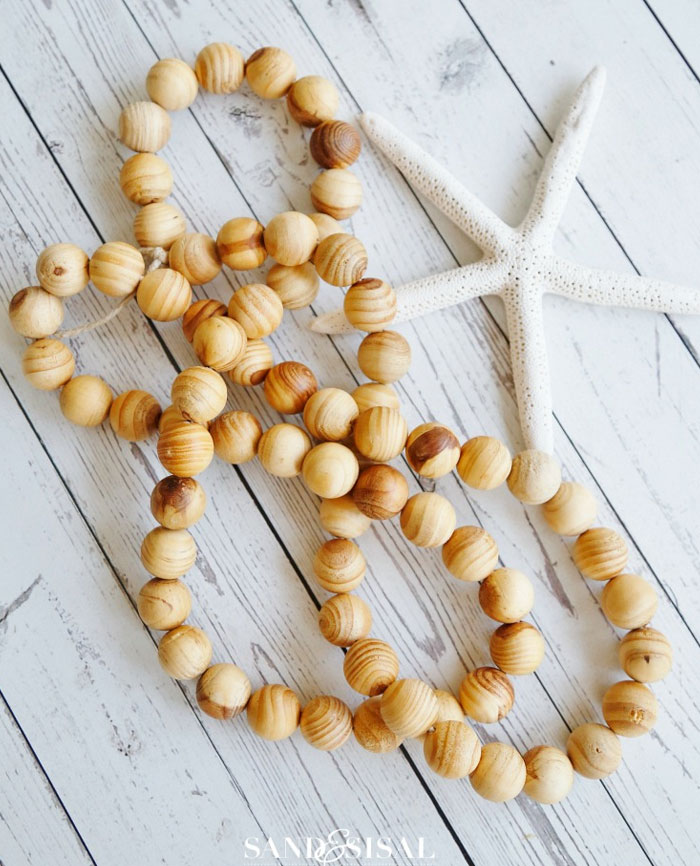 You probably have seen these wood bead strands all over the Internet, Pinterest and in stores like Homegoods but now you can make a strand yourself and save a buck or two. Sand and Sisal also shows us how easy it is to make them with a box of round wood beads, a drill and hemp cord. In about an hour you'll have a fantastic strand of beads you can use in your coastal home decor scheme.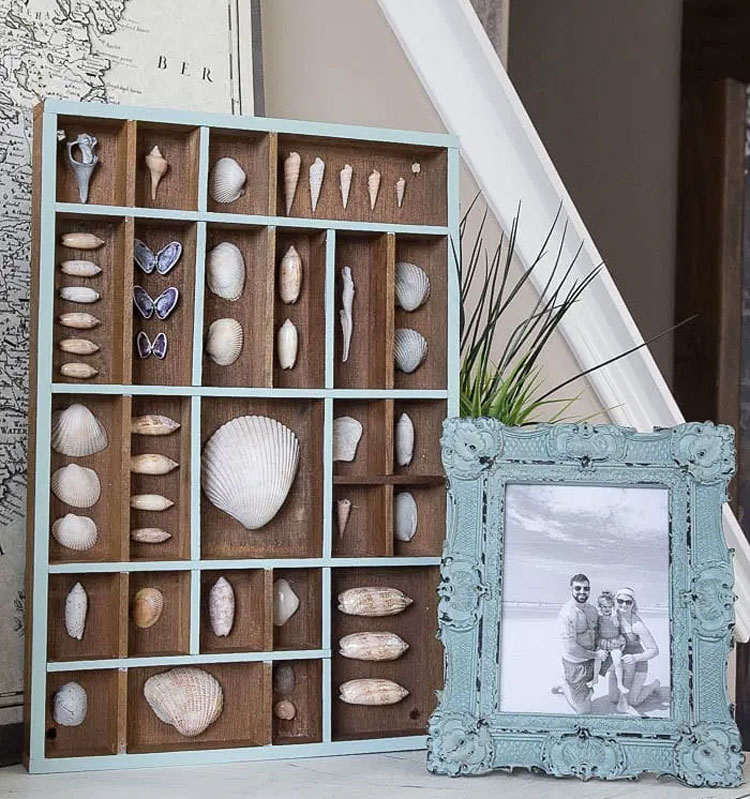 If you like to hunt for antiques and spot a printer's tray or even purchase one on Etsy, you can use it as kind of a shadow box to display a variety of shells. Blesser House shows us how she did it. his is a great accent for your Coastal home.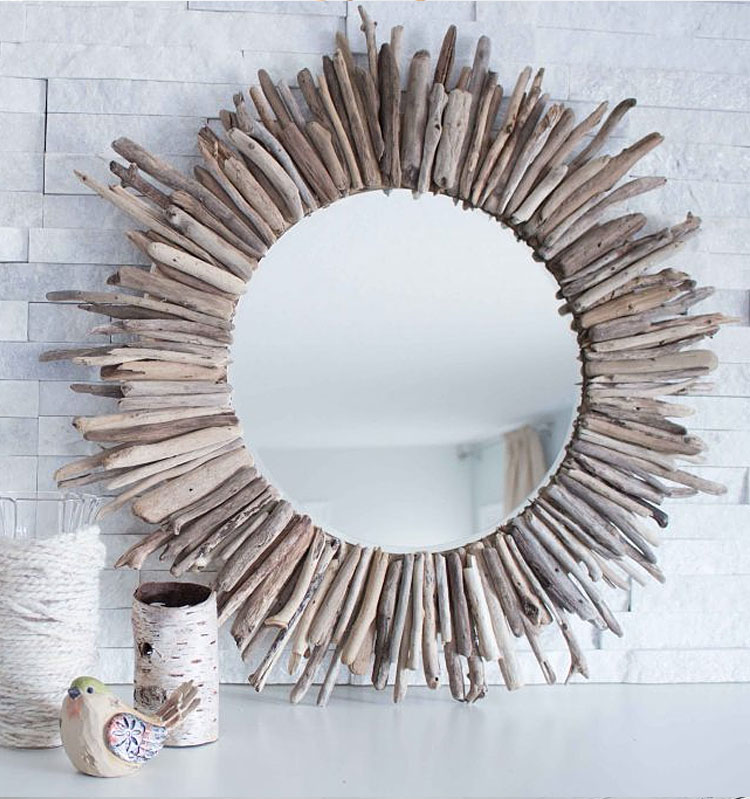 One of my favorite coastal pieces is this Coastal Driftwood Mirror made by Sustain My Craft Habit. It's so versatile and can do in any room of the house. If you can't find driftwood in your area you can buy it on Etsy and even Amazon. You'll need a 14″ beleveled mirror to complete your project. This mirror is stunning.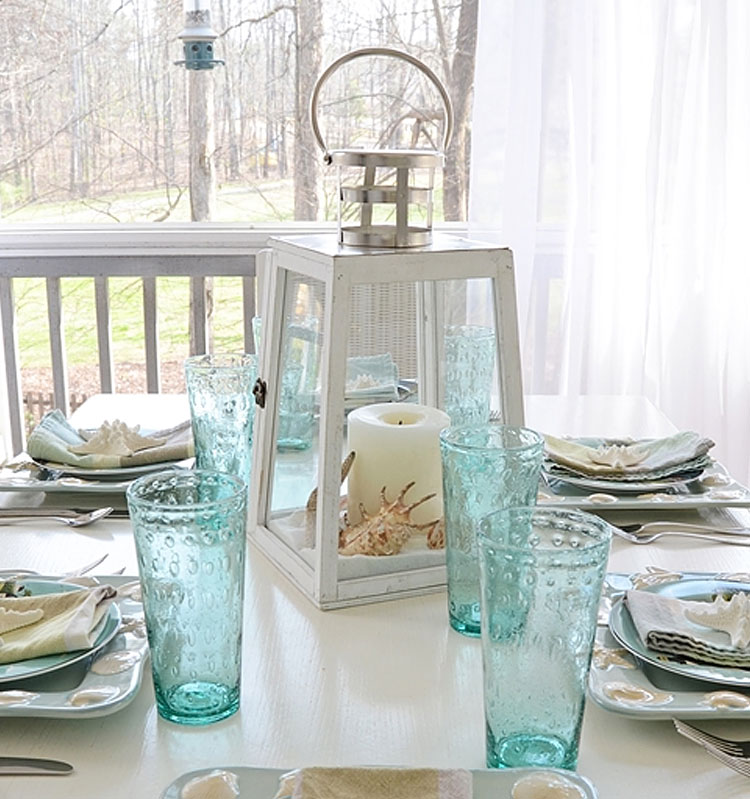 This is more of an idea than a coastal craft you make. Lanterns make great table centerpieces. They can also be placed just about anywhere you have a shelf. This lighthouse lantern makes a statement on the dining table. Between Naps on the Porch gives you ways to arrange the table.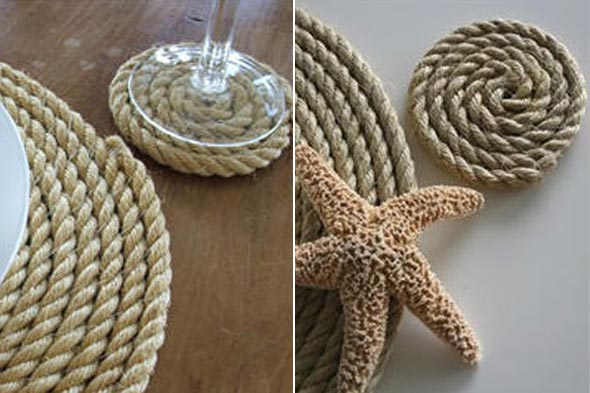 DIY Rope or Jute Coasters work up super quick. You just need sisal rope or thick twine and a glue gun.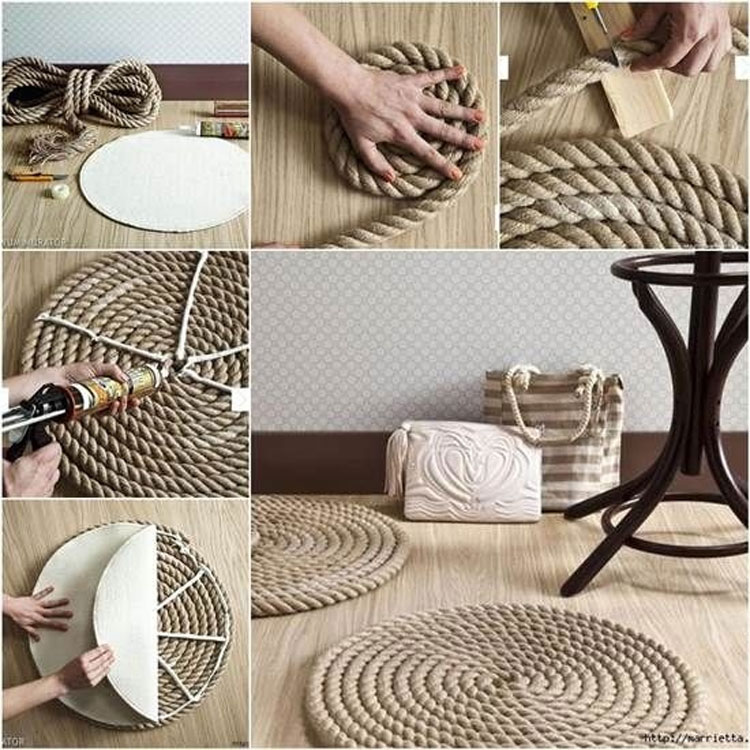 Source: Marrietta.ru
If you're going to make rope coasters, why not use some of that rope and make a DIY rope rug that is super useful. You could also turn them into rope placements. Just don't make the circle as large as you would for the rug.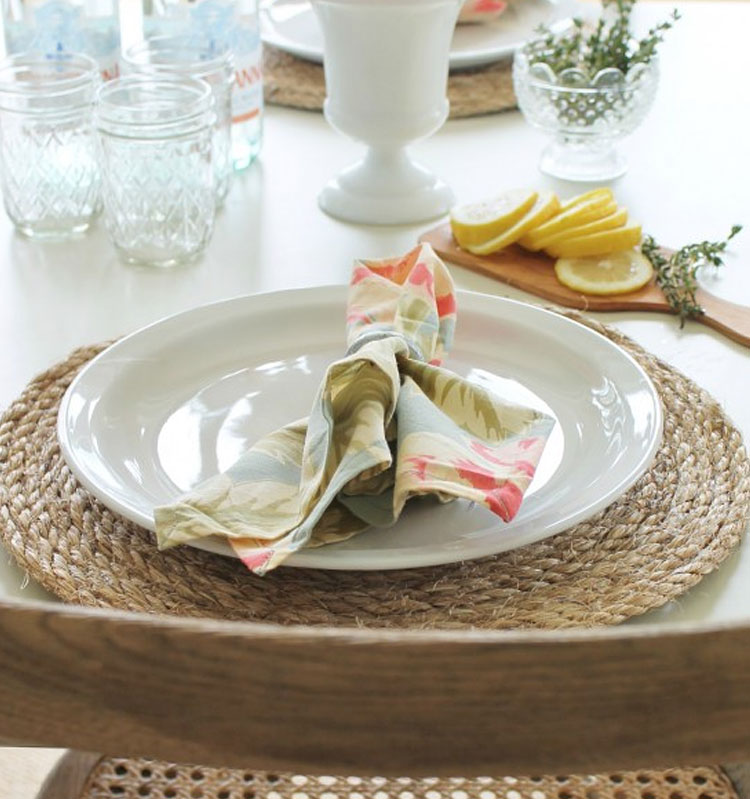 Rope Placement from City Farmhouse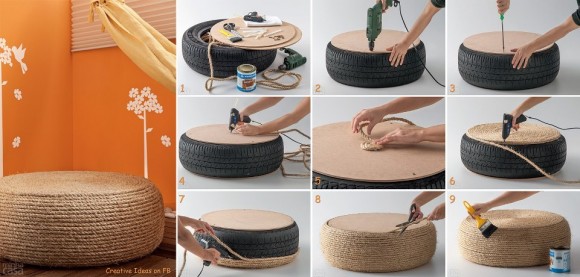 Or how about making a coastal rope cushion by covering an old tire with rope. This would look great on the porch or patio.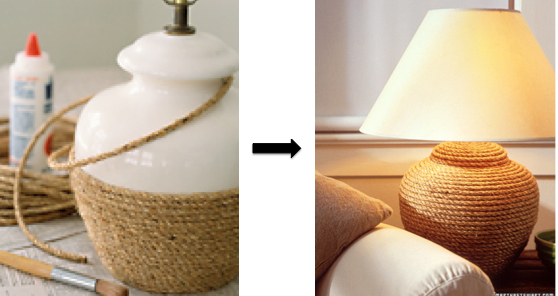 Continuing with sisal rope, let's cover an old lamp and make a coastal rope lamp you can be proud of.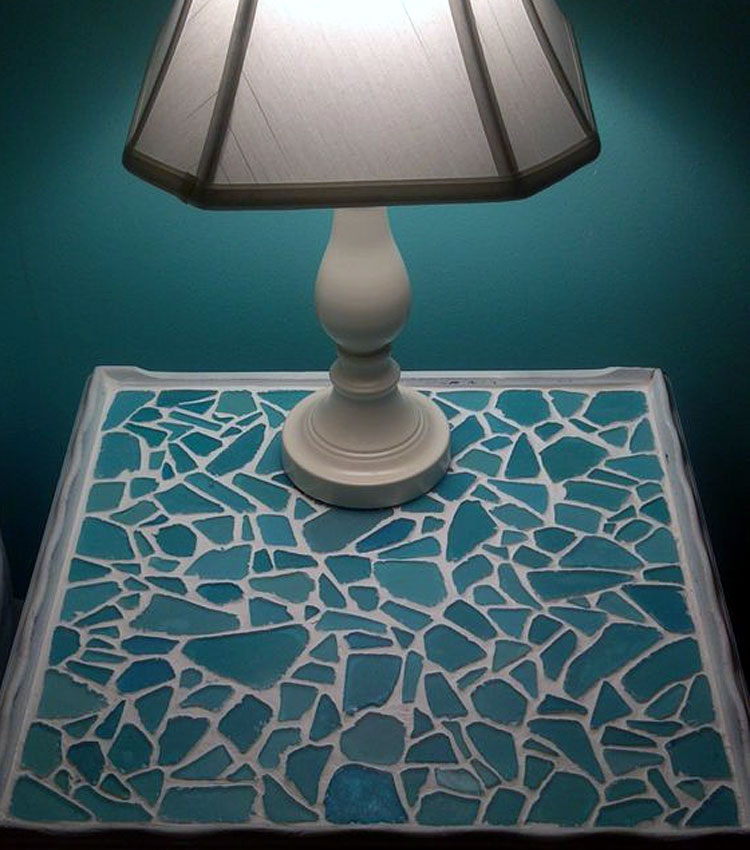 Switching gears to sea glass. This unique sea glass table accents any coastal home decor style.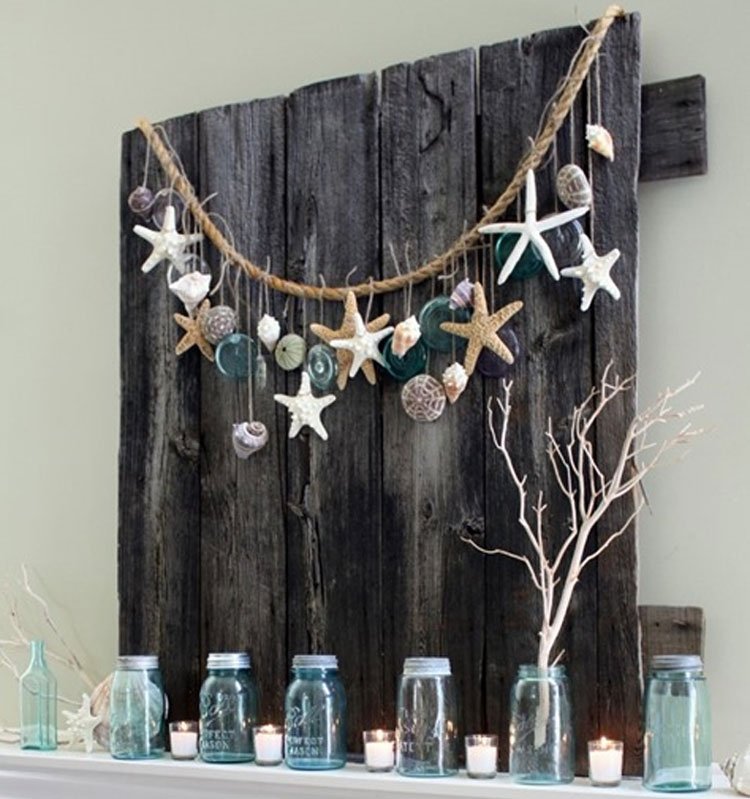 Pallet Beach Coastal Garland from Finding Home Farm is made using a hot glue gun to attach shells, starfish and old Mason jar lids to twine. The twine is then tied to a piece of rope. The wood backdrop is made from old pallets.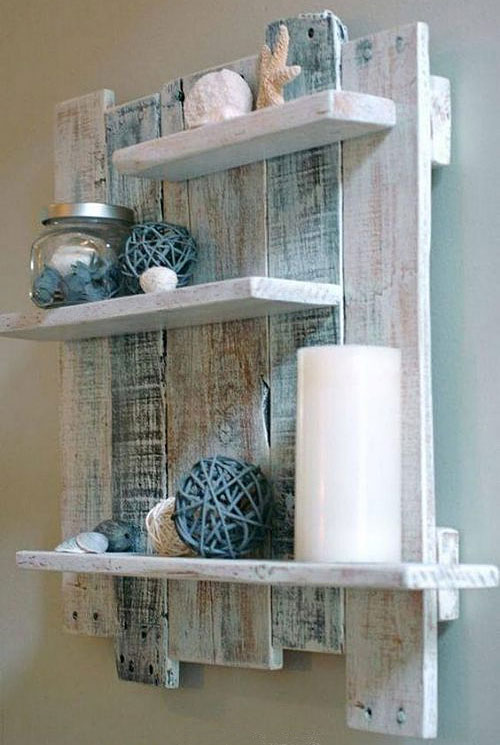 Coastal Wood Pallet Shelf can be made to hold all of your coastal goodies like candles and shells.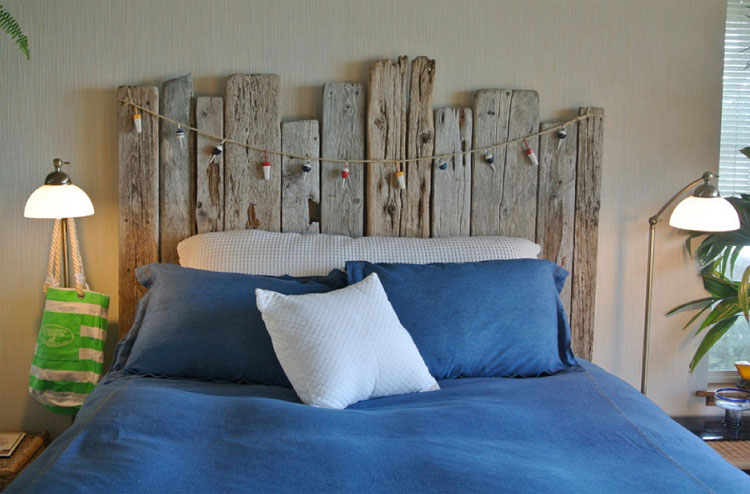 After some time beach-combing and acquiring enough flat driftwood you too can create a coastal-style driftwood headboard.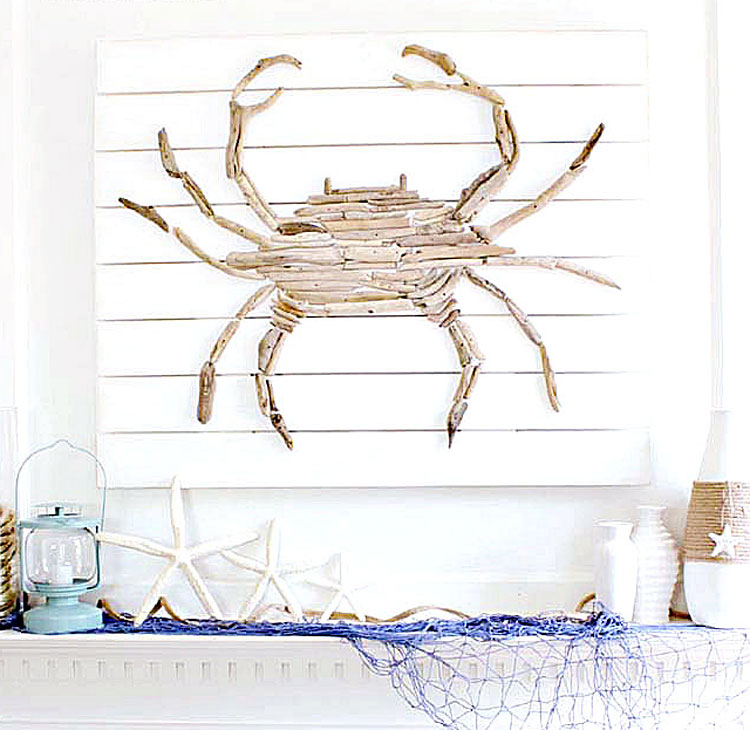 Driftwood Crab Art from Remodelando La Casa is made by taking bits of driftwood and basically laying them out like a puzzle until the pieces fit.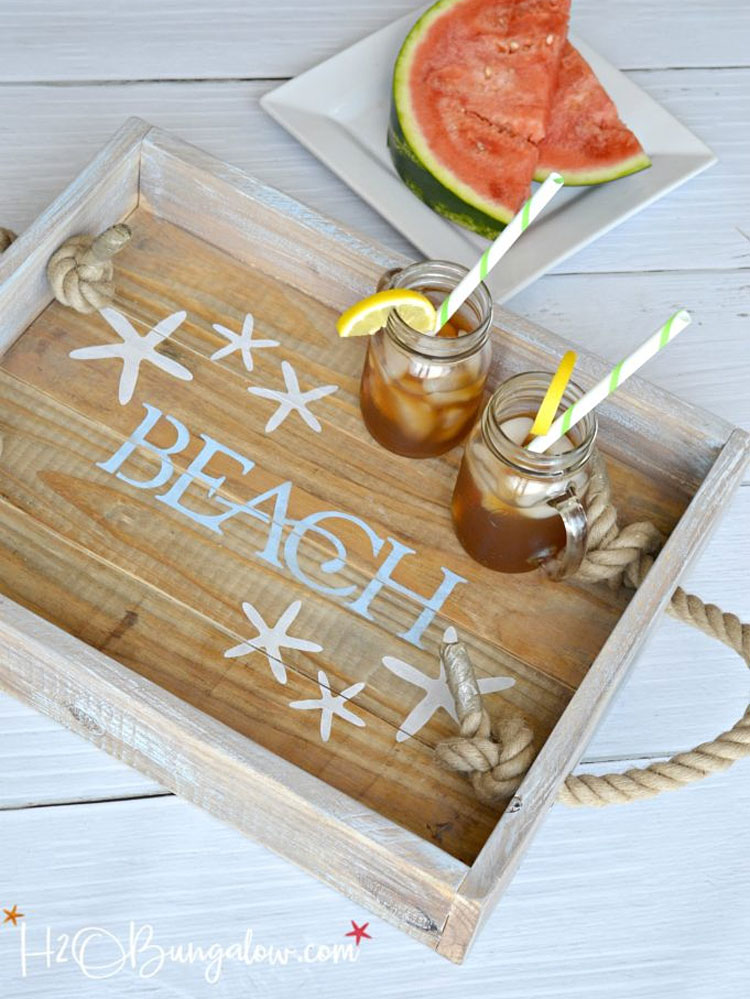 This Coastal Rope Handle Wood Tray from H20 Bungalow can be made in a few hours from start to finish.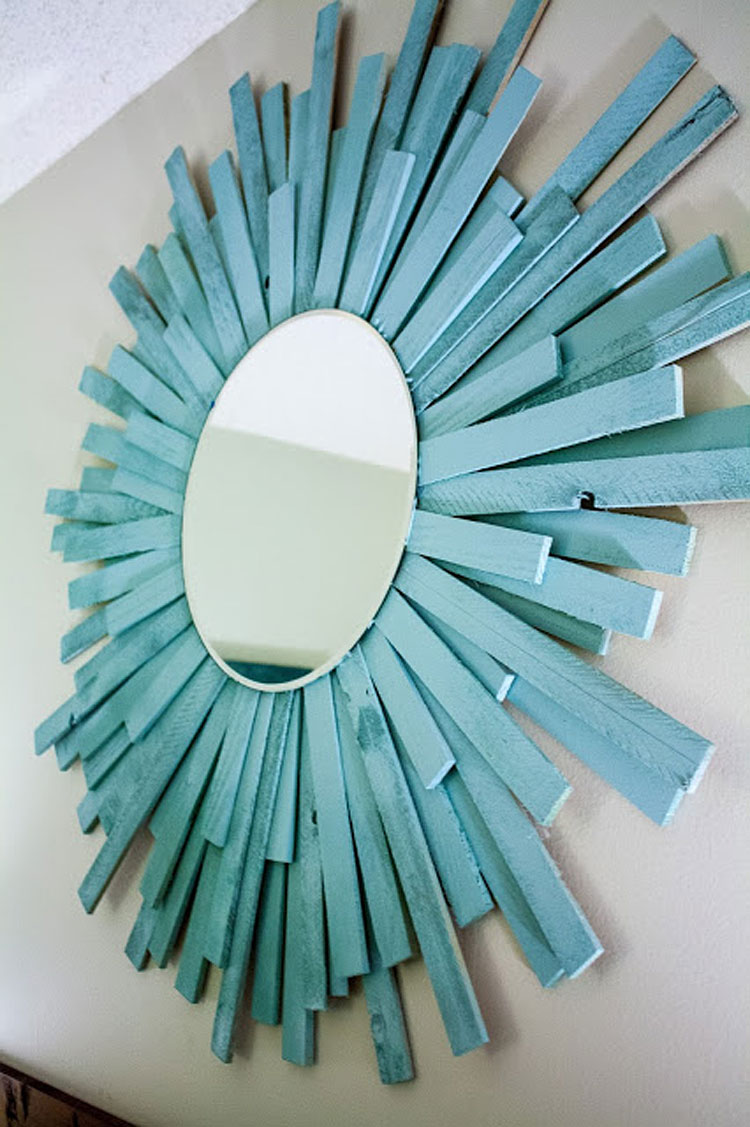 This DIY Sea Blue Wood Starburst Mirror from Sgt. Pepper's Kitchen isn't made with driftwood but it is made using wood shims. You can purchase them for cheap at your local hardware store and the finished mirror looking stunning once it is painted a sea blue color.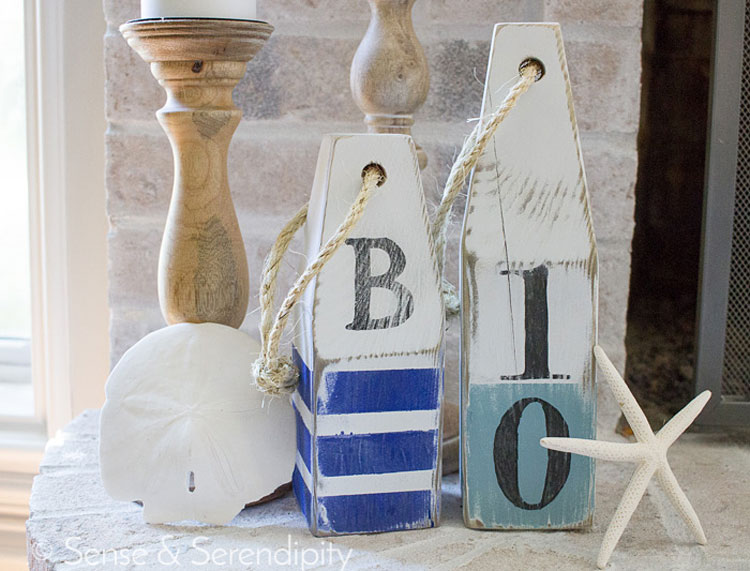 People have been decorating their coastal homes for years with wood buoys. Now you can make your own for cheap. Sense & Serendipity shows us that with a 4×4, a saw, a drill, sandpaper, rope and some paint you can whip some up in no time.
Beach wall art is easy to create. Go to the Dollar Store and get a simple picture frame and a canvas. Paint the canvas a beige or blue color, inset it in the frame, remove the glass and glue a large shell in the center. Or you can purchase it on Etsy.