Wood signs are so much fun to make. Hosting a wood DIY sign making party is a way for friends and family to get together to enjoy some crafting fun in a relaxed setting.
You can invite guests to your home, our home, host a party at a restaurant, library or other meeting place. Use a party for a fundraiser or just a fun night out. Everyone who attends get to make a wood sign that they can keep or giveaway.
Disclaimer: this article contains affiliate links. Please read our affiliate policies.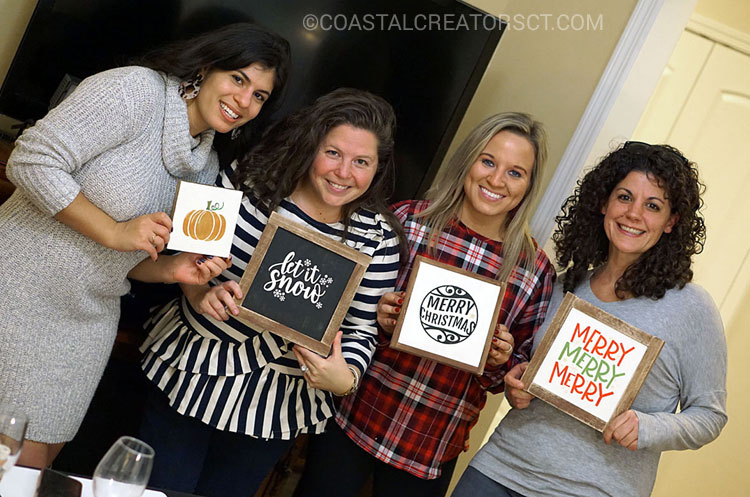 When you host a party you should provide multiple designs so your attendees will have a good variety to to choose from. We suggest that you either provide pre-made stencils or sticker stencils you make using your Cricut, Silhouette, or other vinyl cutter. Using a sticker stencil cuts out a lot of the bleeds you would get if you used regular stencils.
You will need a stencil for each person and if you are using vinyl sticker stencils you will want to make sure to have some extra in case someone makes a mistake (it always happens).
Remember! Your attendees (or students) may not be as crafty or have any artistic ability so you need to think of everyone as a beginner and try to remove as many things that would cause them stress as you can. You want to make it fun for them.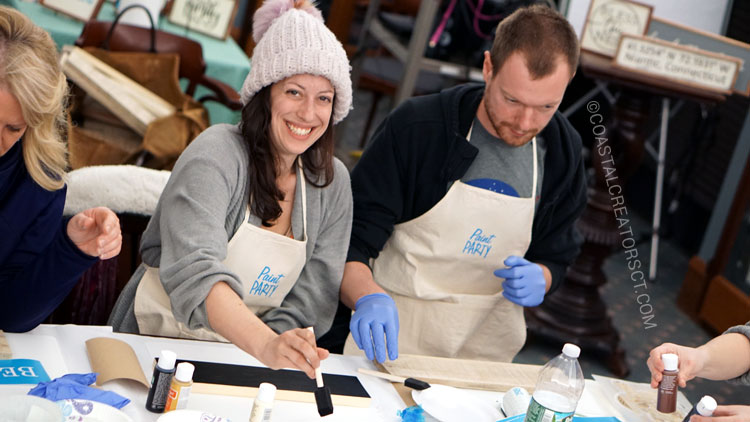 Where to Get Free SVG Files
Here is a list of great sites that offer free SVG files you can use for your sign making party.
Take a look at some of the signs our students have made in our wood sign making classes. Looking at the smiles on their faces show you just how much find they had.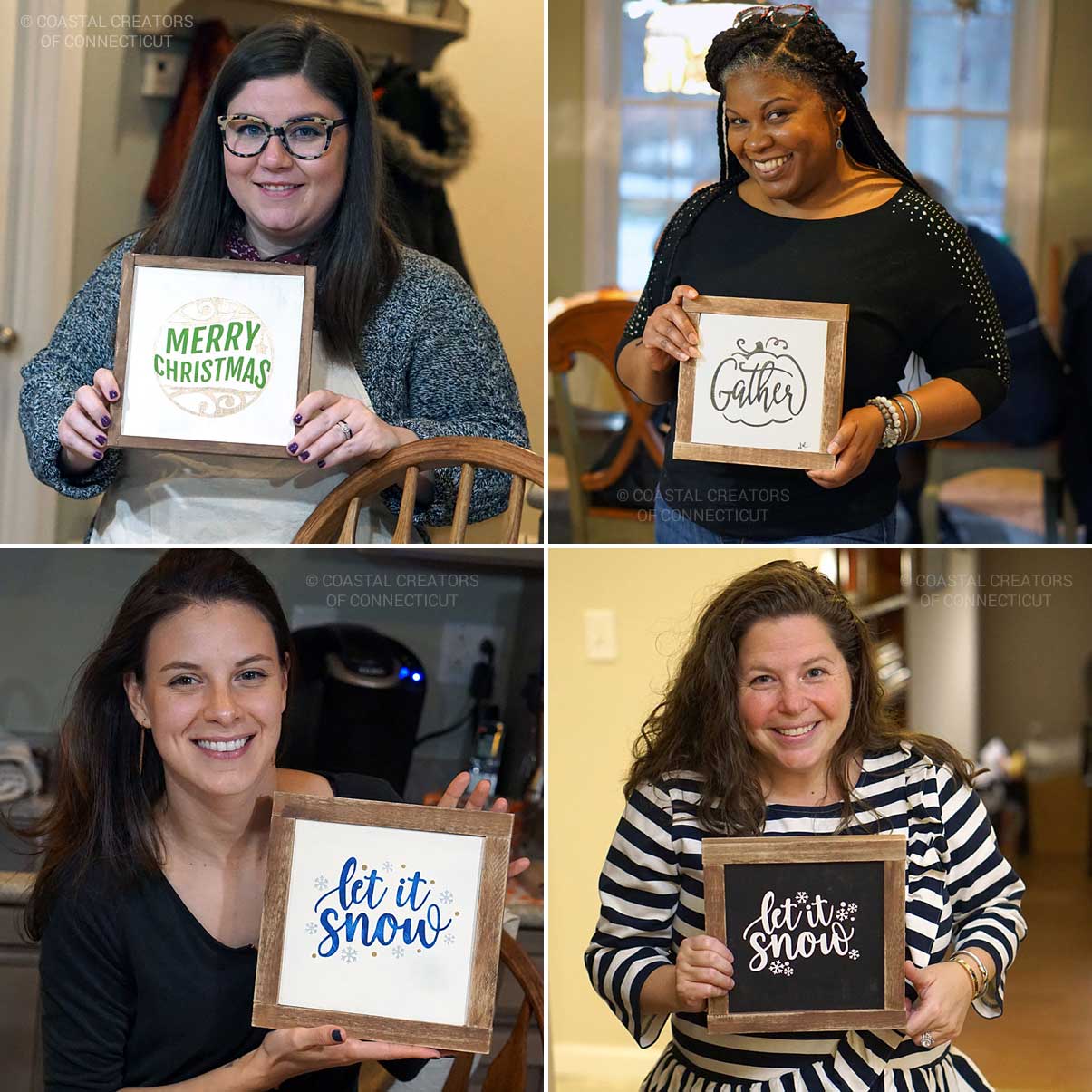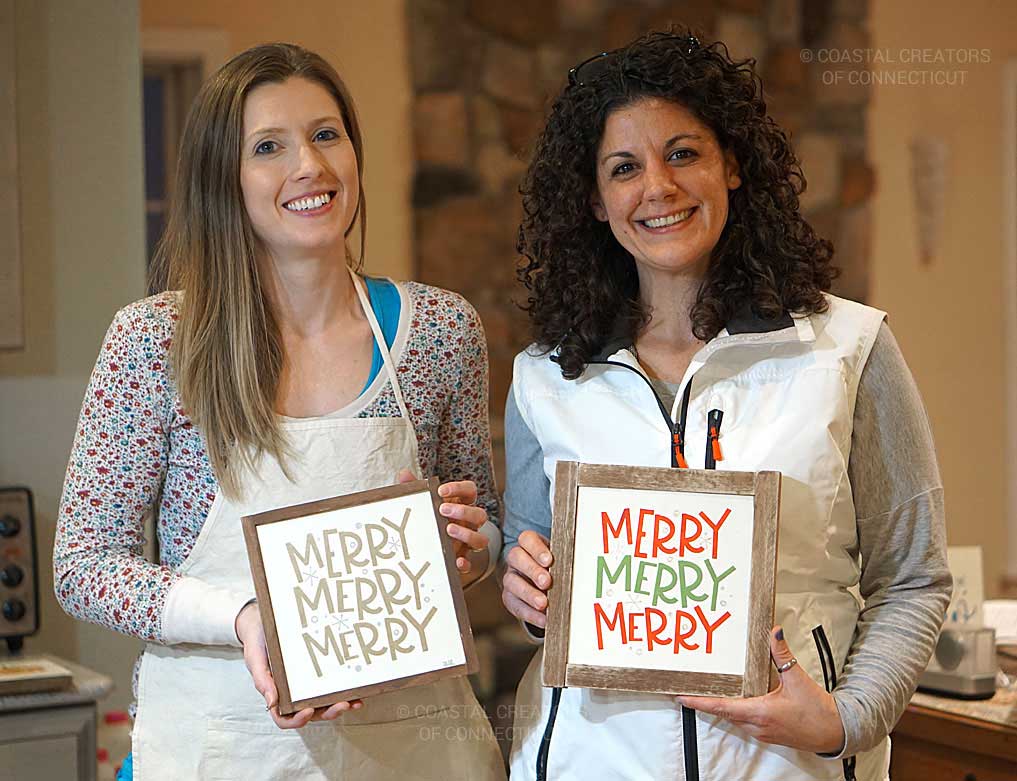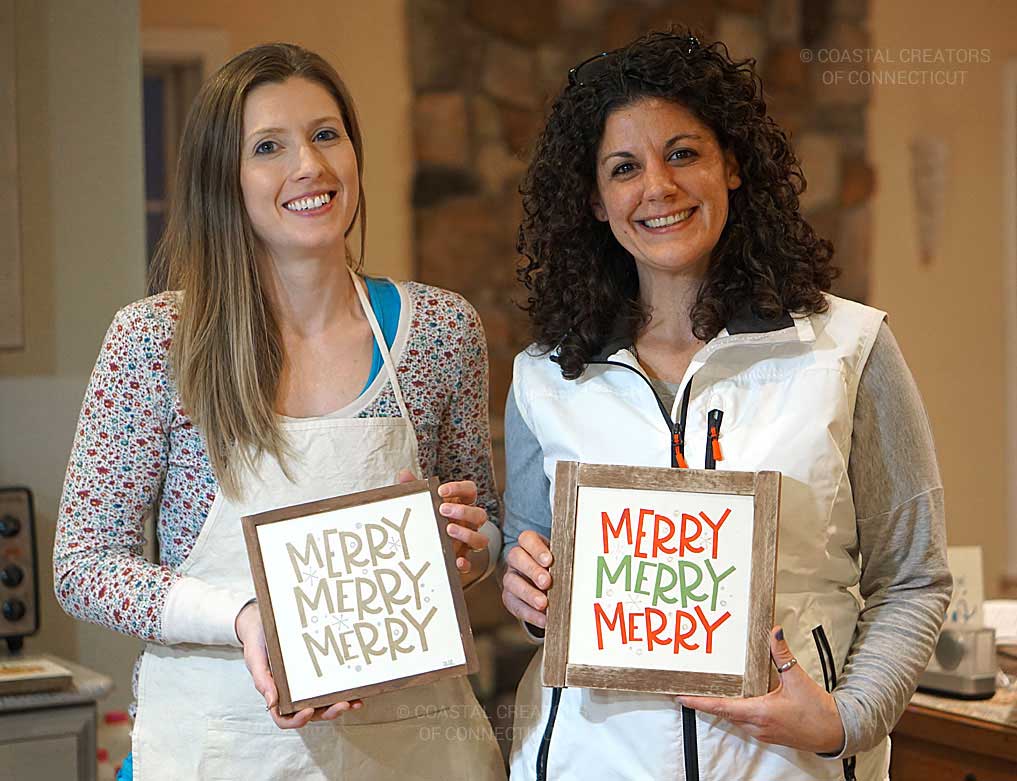 Wood Sign Making Party Supplies
You will need a variety of supplies to teach a wood sign-making class.
Large paint brushes. We like wide flat brushes for painting. We found that our students like this method the most.
Tiny paint brushes. We suggest these throwaway eye liner brushes that can be used to clean up any paint bleeds. They are super cheap, around 9 cent each.
Makeup Sponge Wedges. You can have students dab on the paint instead of paint with a paint brush. You found good ones at Dollar Tree. They are also super cheap, especially if you get them for $1 at Dollar Tree.
Acrylic Paints. Our favorite is the Apple Barrel brand. They are cheap at Walmart at only 50 cent a bottle. But, if you want to save even more money, buying house paint at Lowes or Home Depot. We buy the gallon size when it is on sale and it last a year. We pour the paints into condiment bottles. That way you can have them lined up on a table and the students can see the colors.
TIP: Limit the amount of colors you offer. If you have them in the condiment bottles they are easy to see and they know that is what they get. Too many choices can cause confusion for your students.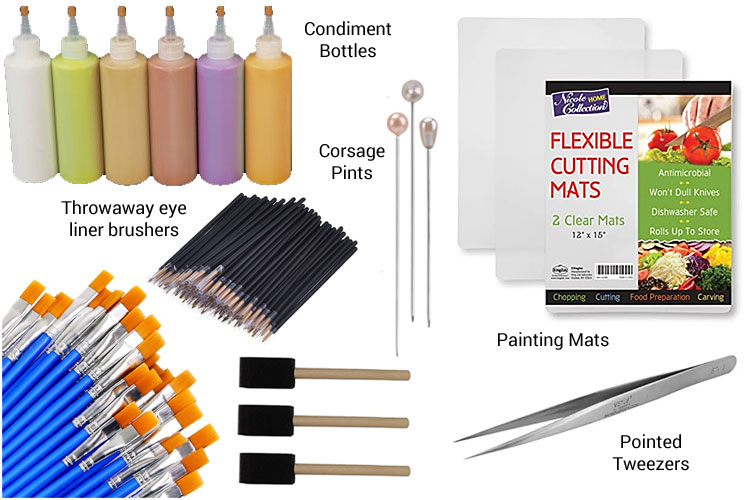 Paint Mats. We put out one for each students. These are made out of plastic and you will find them listed as flexible kitchen cutting mats. They are sold in packs or 2 or 3. They are easy to clean and then you don't have to worry so much about paint getting on the table or buying table clothes.
Table Cloths. If you don't have the paint mats we suggest you can always go to the dollar store and get through away plastic tablecloths.
Throw-away sponge paint brushes. This is another option but we found students didn't like this so much. These are also cheap and can be found at Michael's, Walmart, Amazon and more.
Paper plates. We suggest everyone has a paper plate and only put dollops of paint of each color on their plates.
Paper towels. We use the Select-a-Roll paper towels and have one section folded next to their mat.
Water containers. We find that yogurt cups make great paint brush containers but these deli food containers work well too. Make sure you remind your students to always keep their brushes in the water so they don't dry out. We find this is something they do not think about and have to be reminded about. You can also just put one water container in between every 2 people.
Corsage or Hat Pins. You probably won't have enough weeding tools for everyone to use so corsage pins (or hat pins) work really well to weed vinyl sticker stencils. Hat pins are longer and have a large head. You can also buy weeding tools in bulk if you choose.
Pointed Tweezers. Pointed Tweezers are often needed to help pick out small pieces of vinyl off of the painted wood. You can buy them in bulk really cheap. Make sure you have a pair of tweezers for every two people.
Wood. We like to use pine wood. It is easy to cut with a circular saw or manual saw.
Stencils. you can purchase pre-made stencils at Walmart, Joannes, Michaels or online. You can also make vinyl sticker stencils using your Cricut, Silhouette, or other vinyl cutter. Using a sticker stencil cuts out a lot of the bleeds you would get if you used regular stencils. Remember, you will need a stencil for each person.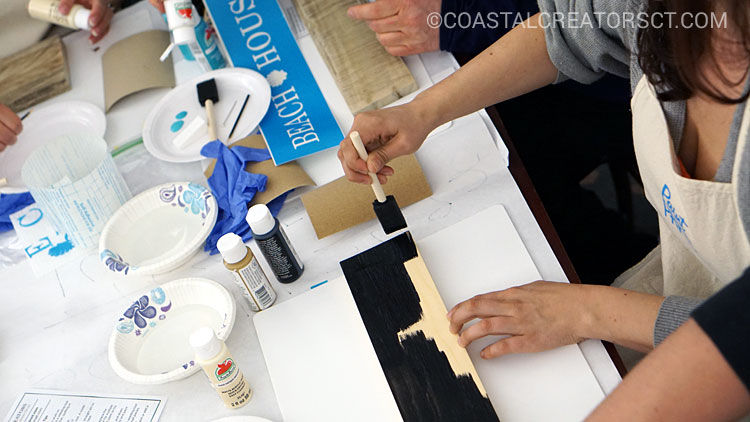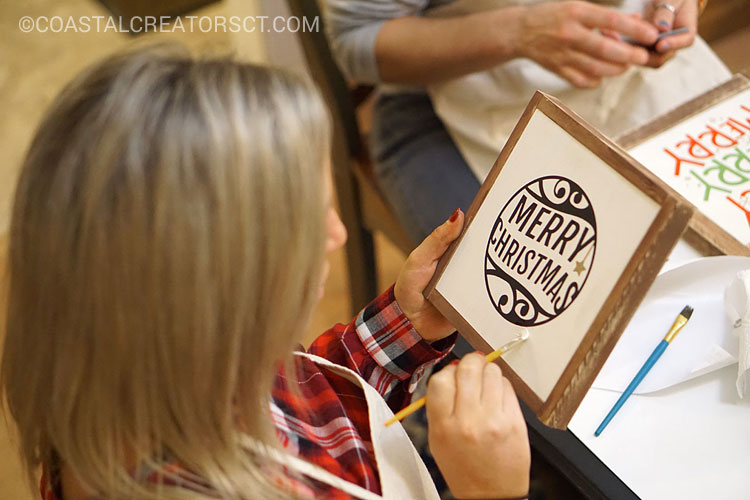 How to Take Party Registrations
If you are teaching a class to make money you will probably want a registration form. If you don't have a website you may be wondering how you can do this.
You can use Google forms to create a registration form. Google makes it easy and you can set it up so you are notified when students sign up. This gives you a way to know exactly how many people are coming too.
What to include in your form
I suggest you ask for name, email and phone number only.
Text Reminders: These days many people have to be reminded multiple times to show up for a class. I suggest you send everyone a text message one week and 1 day before the class. I have even had to send text reminders the day of the class too.
It's just the world we live in these days. You get text alerts from you hair salon and doctor so this is just what you will need to do if you want people to show up. I found that many people don't check email so texting is the guaranteed way to get right in front of them.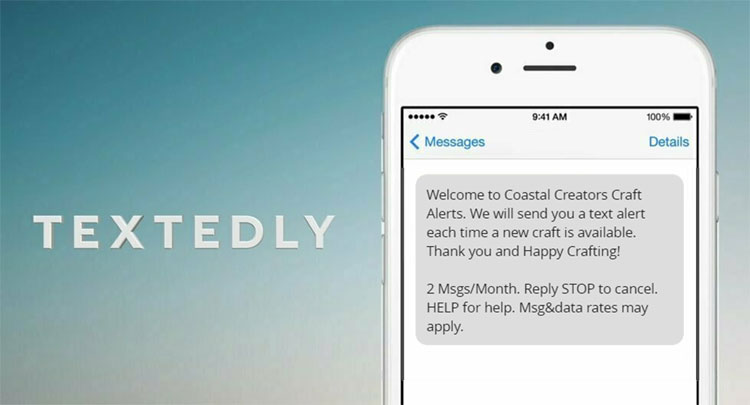 Respond Using a Text Service
I use a service called Textedly. It is very affordable and it allows me to send all students one text. A lot of people don't want others to see their phone so sending out one text to a group using your own phone number isn't a great idea.
By using a text service you look more professional if you are running classes as a business. You can also grow your list of people who will receive text alerts from you, the same way you grow your email list.
How to Setup a Google Registration Form
Note: A Gmail account is required to use Google Forms.
1. Visit docs.google.com/forms
2. Click Start a new form and then Contact Information for the type.
3. Delete the Address information section. Click on it and you will see the trashcan icon.
4. You can change the color scheme by clicking on the paint palette icon at the top.
---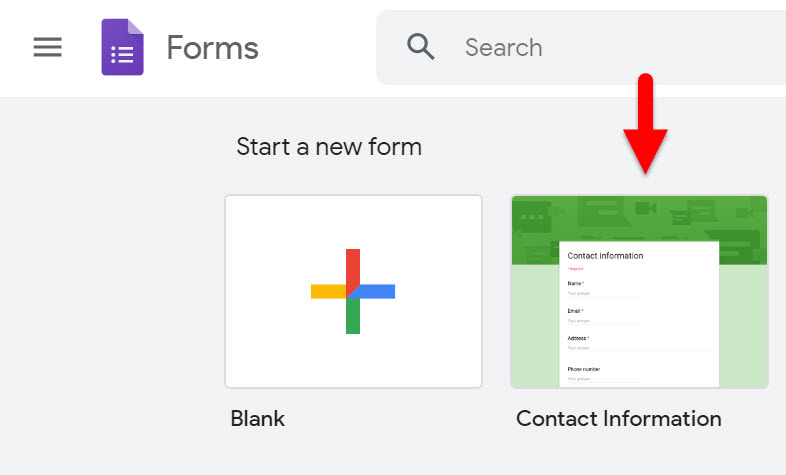 Set a Google Form Confirmation Message
1. Click the Gear icon at the top.
2. Click Presentation.
3. Type the message you want them to see once they submit the form. You can also give them ability to change their response.
4. Click Save.
I always like to include links to follow me on social media or sign up for my text list in this message.  You can't add HTML to link words but you can include your full links with https:// and they will show as clickable on the public side.
ALWAYS remind them about Cancellations.
TIP: Once you have created your form, register as if you were a student to see what they see. This way you can check for errors and fix them. You can always delete your entry later.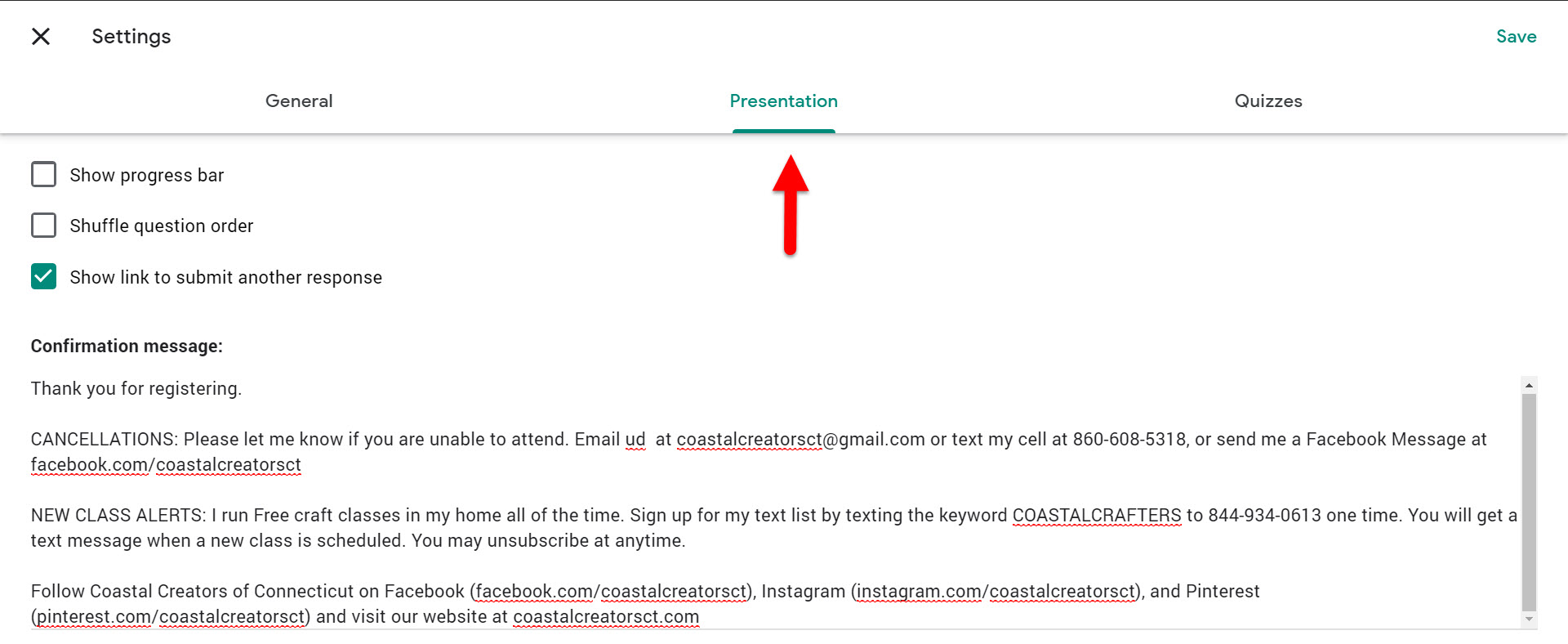 Install the Form Limiter Add-on
Google Forms has something called Add-ons. You can add-on the formLimiter and you can then limit how many people attend your class. It also will send you an email when you have reached your limit.
1. Click the 3 dots at the top right and click on Add-ons.
2. Search for formLimiter.
3. Click on it and click Install.
4. Click Continue when prompted. It will ask you to log into your Gmail account.
5. Log into your Gmail account and click Allow.
6. You should see the Form Limiter window on the right. If you don't click the Add-on icon at the top and click Set Limit.
7. Fill out the amount of people and also a message they will see when the class is full.
8. Check the box next to Email form owner when submissions are closed.
9. Click Save and enable.
You can always go back into this window and make changes as needed and click Save and Enable each time.
---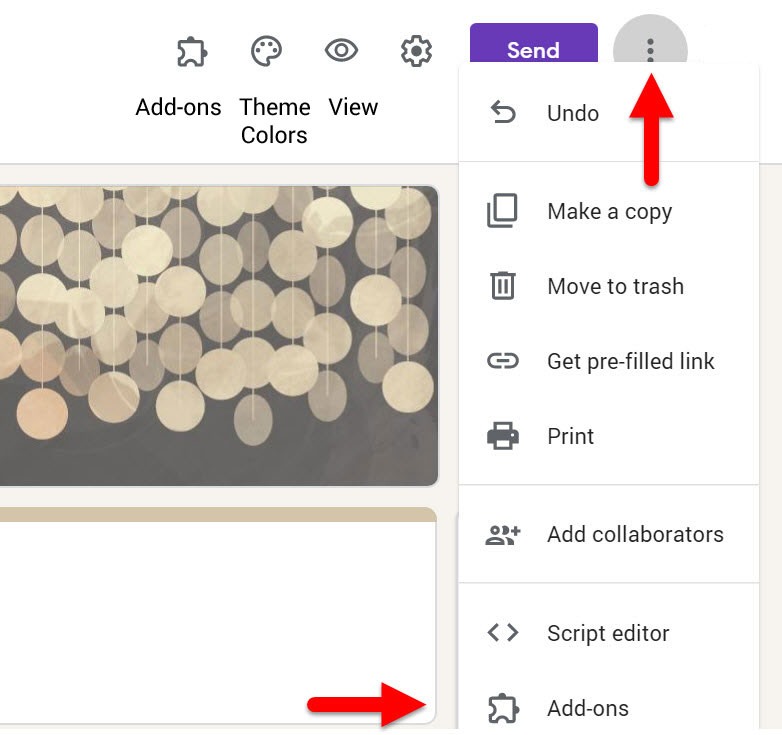 ---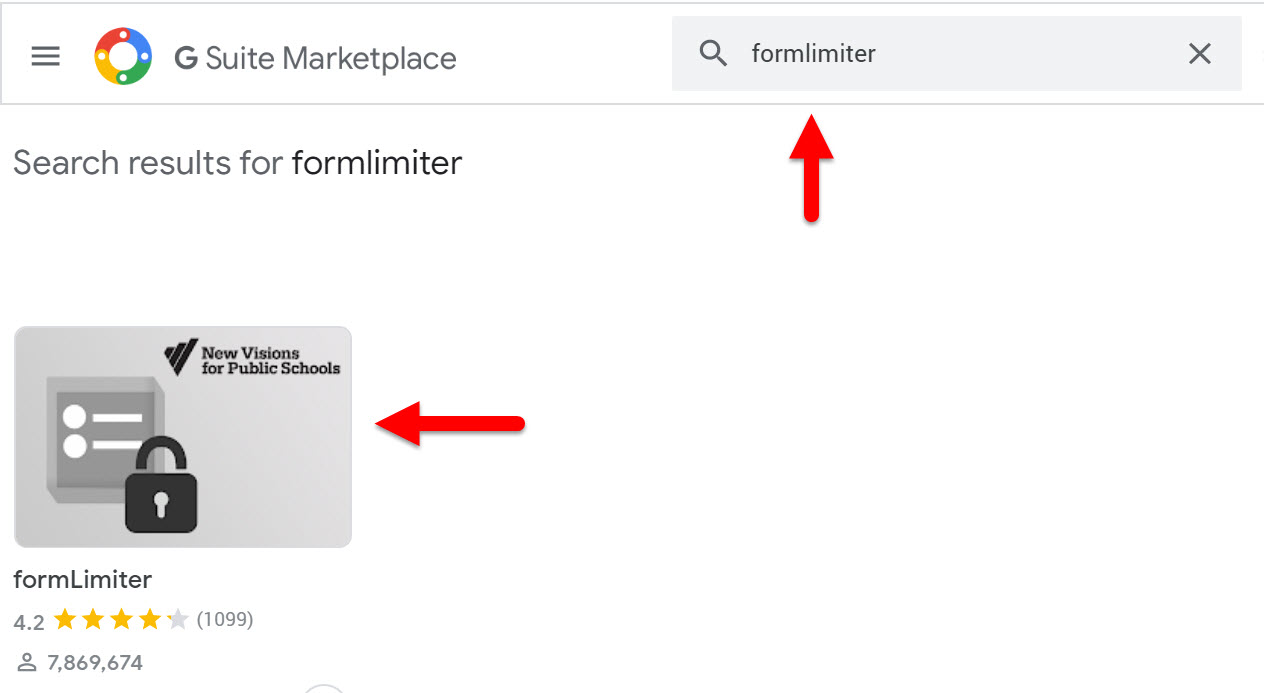 ---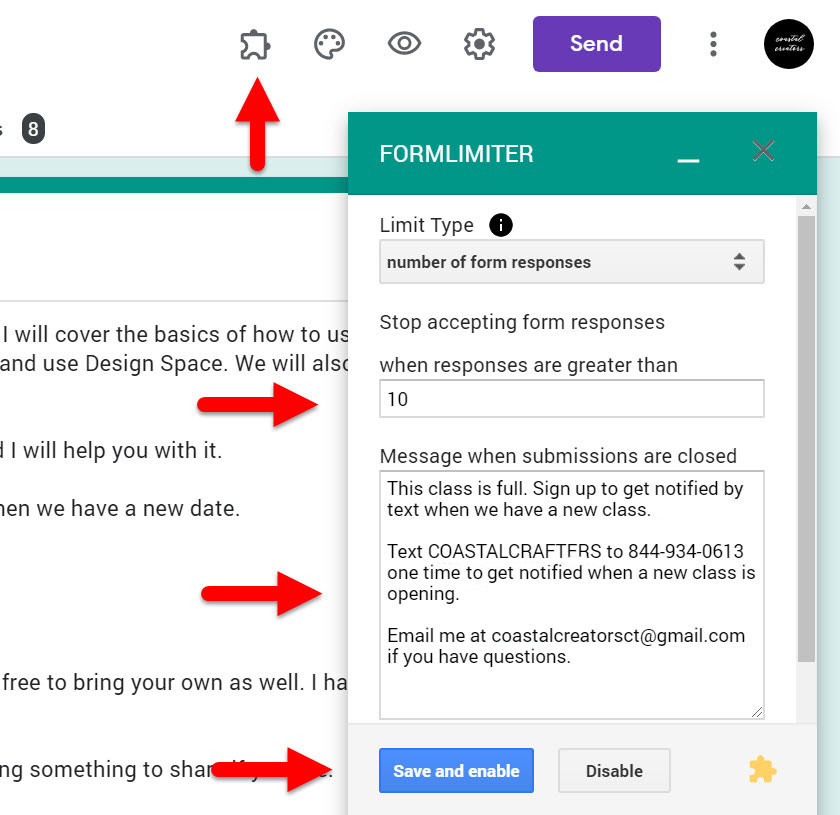 ---
Hopefully now you will have a good guideline as to how to plan, organize and execute a sign making party. Good luck and happy painting.