Do you have a product you would like to sell on Facebook Marketplace but you can't seem to get anyone to buy it? There are definitely some good strategies you need if you want more views and more sales on Facebook Marketplace. Keep reading to find out what they are.
Join Yard Sale and Resale Facebook Groups
This is actually our very first step before even setting up your Facebook Marketplace listing. These groups will be used on the very last step once your listing is ready, see below.
Here are some examples of groups on Facebook. You can find some in your area to join by typing in resale, yard sale, buy, trade, etc. under the Groups section on Facebook.
You should join at least 20 to get started.
TIP: Since you only using these groups to sell your products, you may not want to see all of the things people are seeing in our Facebook feed all day long. Once you join a group, look at the top for the 3 dots. Click that and click Unfollow this group. You will still be a member of the group but now you won't see any of the content in your main feed.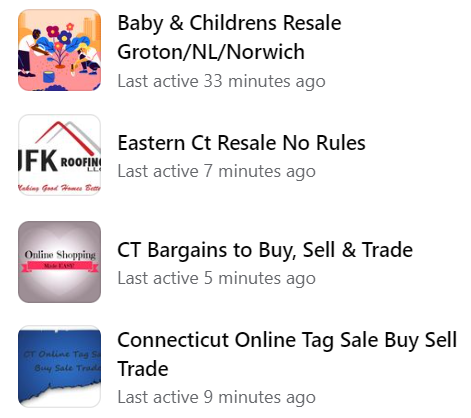 Setup your Facebook Marketplace Listing Properly
The first thing you need when setting up your listing is good quality, clear photos. Your photos need to entice someone to want to buy your item. Make sure to show various angles of the item and closeup views.
Add a Descriptive Title
The title is very important. Make sure you add as much information about the item as you can in the title, especially near the beginning because some of the wording will get cut off at the end if it is too long.
Adding the Product Description
The first sentence of your product description is THE most important part of the description. Many people never expand the description to even read the rest so make sure your first sentence tells as much about the product as possible.
Here are some starter sentences you could try. Just change out X for your product name and change out sizes as needed.
This X is brand new in the box and comes with all accessories.
X is brand new and measures 10″ high x 12″ wide x 4″ deep. It comes in 3 different colors.
I am selling an X that is in good condition. There is a very small scratch on the top.
Once you have your first sentence, continue to tell more about the item you are selling. Give dimensions, color, and anything else that might make someone want to buy your item. Ask yourself – what would I want to know about this item if I were looking at it? What questions would I ask?
Fill out other fields
Make sure to add the price, category and condition. The other categories such as color, material, product tags and SKU are optional and we have not found that they help much in getting views or sales.
On the next page you will decide whether to ship or just offer local pick.
List in Yard Sale and Resale Facebook Groups
IMPORTANT! Make sure you list your item around 9 am ET, noon ET, or 6 or 7 pm ET. You want to post your item at peak times when more people are looking. You only get one shot to post it so make sure you post it at a good time.
Here is where the magic comes in. On the last page you will be presented with a list of all of those groups you joined. Click next to each group to select it. You can list your Facebook Marketplace listing in up to 20 groups at a time.
Preview your listing and when everything looks good, submit your listing. Your listing will now appear in Facebook Marketplace AND in all of the groups you selected.
Boosting your Facebook Marketplace listing for Free
Here is a trick we found that really helps your Facebook Marketplace listing get more views without paying to boost it.
Once you listing has been on Facebook for one or two days, the views from those groups will go down. Here are a couple of things you can do to boost your listing for free.
Go into each of those groups, search for your listing (type a keyword you have in the title to find it easily), and like and comment on your listing. Everything that gets posted to a group can be pushed back to the top of the group by liking and commenting.
Search for and join more yard sale and resale groups.
Next, go back to your Selling Dashboard, find your listing, click on the 3 dots and click on List in More Places. If you have joined more than 20 groups you can now list your item in another 20 groups. Once again, make sure to do this at a peak time.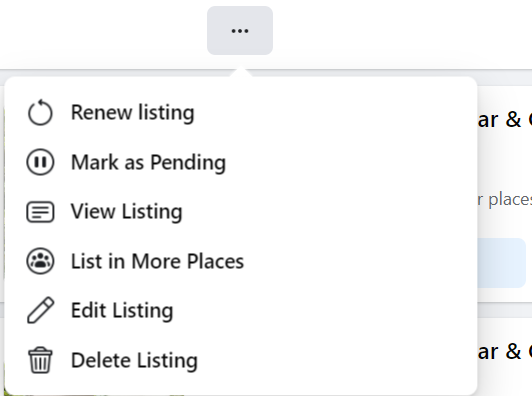 By utilizing some of these tricks, you will ensure your Facebook Marketplace listing gets seen by more people without having to pay to boost.