Mod Podge is such a great, all around sealer that is versatile and offers a lot of uses for a variety of projects. Mod Podge can be used on wood, fabric, metal, glass, plastic and more. It acts like glue and also a protectant and sealer. Therefore, Mod Podge is an all in one decoupage glue, sealer and finish.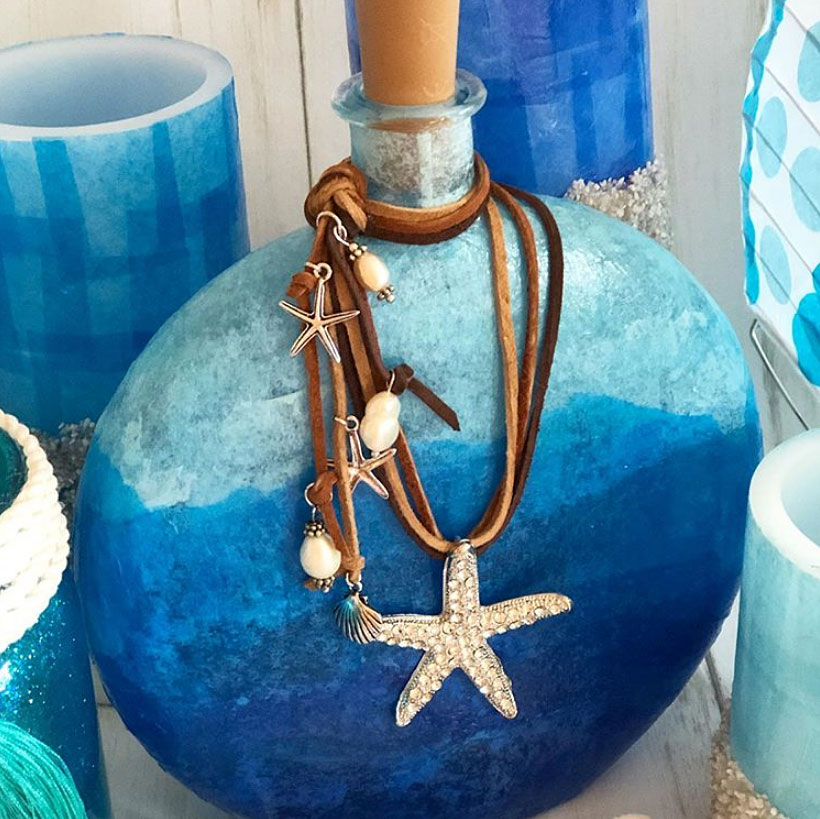 Boho Fairy Light Bottle Lamp
Bring the beach vibes inside with a Boho bottle light. This Mod Podge craft utilizes tissue paper and Gloss Mod Podge to create an ocean wave bottle lamp with ombre look. You will need Mod Podge Gloss for this project, a glass jar (or even an old wine bottle), 3 different shades of tissue paper, and a battery operated cork fairy string light.
Tutorial: Plaid Crafts on Facebook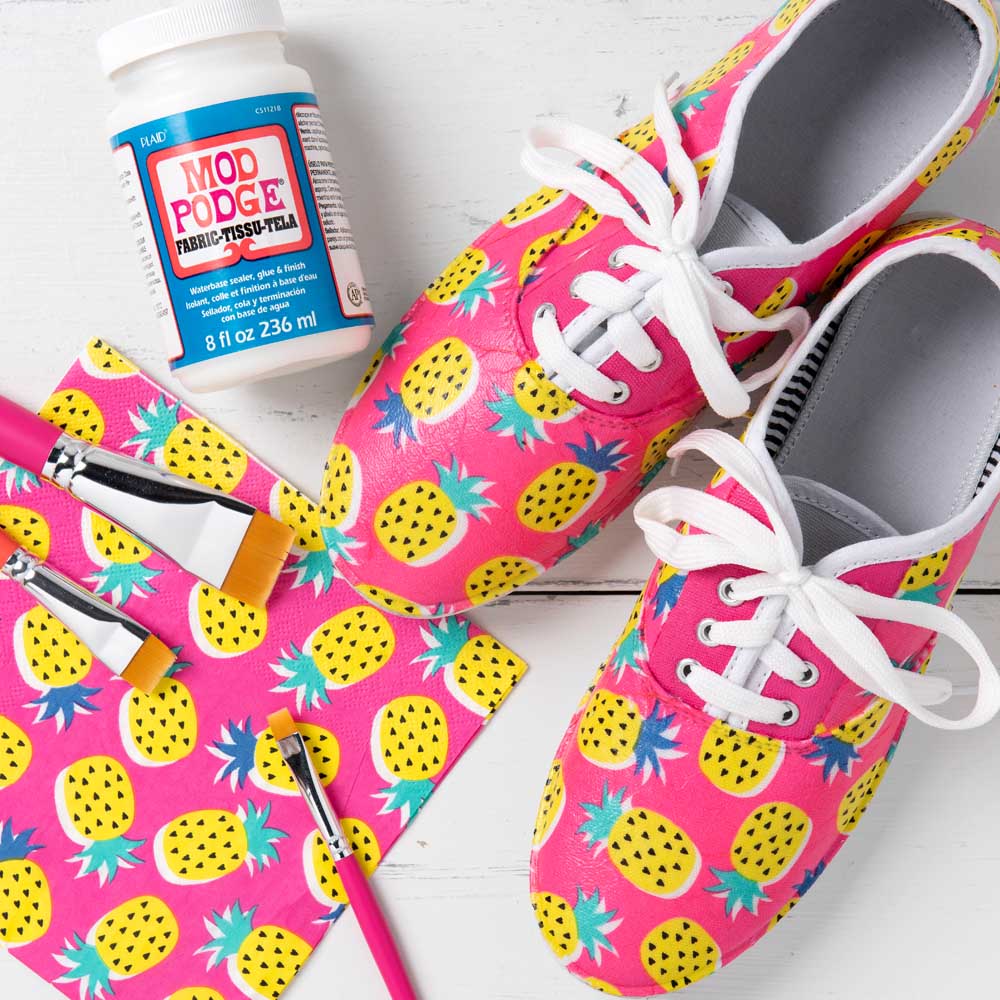 Funky and Fun Mod Podge Sneakers
Make a fashion statement with fun and bold sneakers by using fabric napkins or fabric by the piece and Mod Podge Fabric waterbase sealer. If you are using a napkin, such as shown in the photo above, it works best if you separate the two layers of the napkin and only use the top, printed layer. If this doesn't work, you can still use the napkin with all layers intact. Simply use Fabric Mod Podge to apply the paper napkin or fabric pieces to white canvas tennis shoes. Once it is dry, brush another layer of Fabric Mod Podge over top as a sealer. Only machine wash in cold water, gentle cycle after 72 hours but it is often better to surface clean.
photo source: plaidonline.com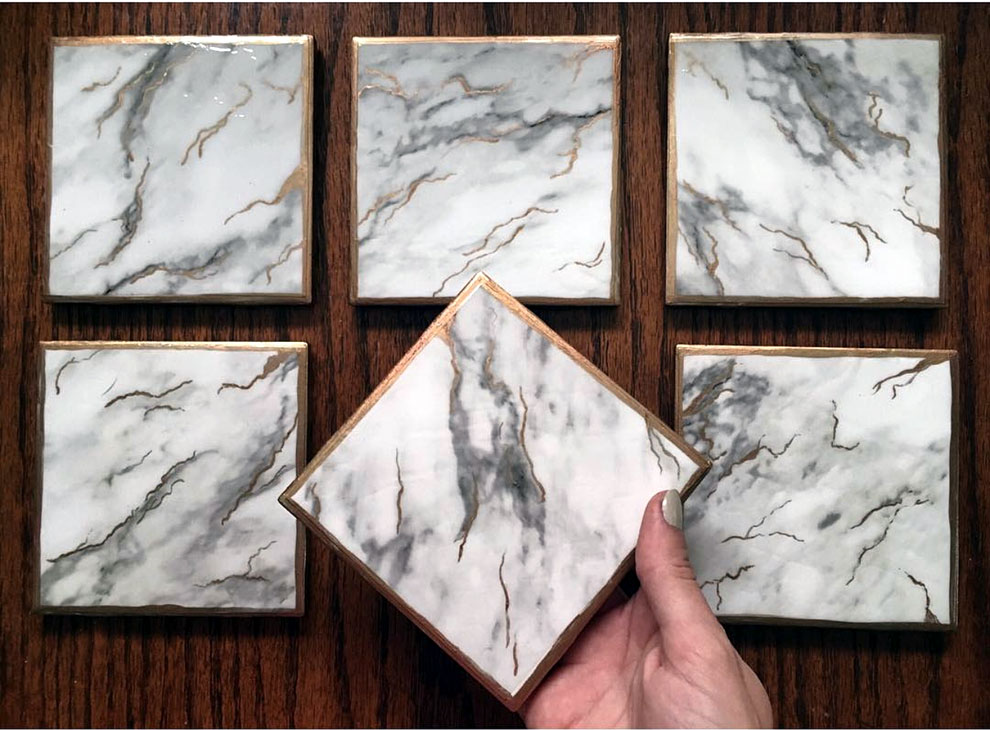 Sleek Marble Mod Podge Coasters
We just love this project. They stone coasters are sleek and elegant and look oh so expensive but they cost less than $10 to make. These coasters are made using square stone coaster blank with a cork backing. Brush Mod Podge of your choice (Matte or Satin is good for this project) and place marble scrapbook paper on top of the cork coaster. Use FolkArt Gold Paint and paint the edges and then seal the whole coaster with another coat of Mod Podge.
photo source @schadenfreude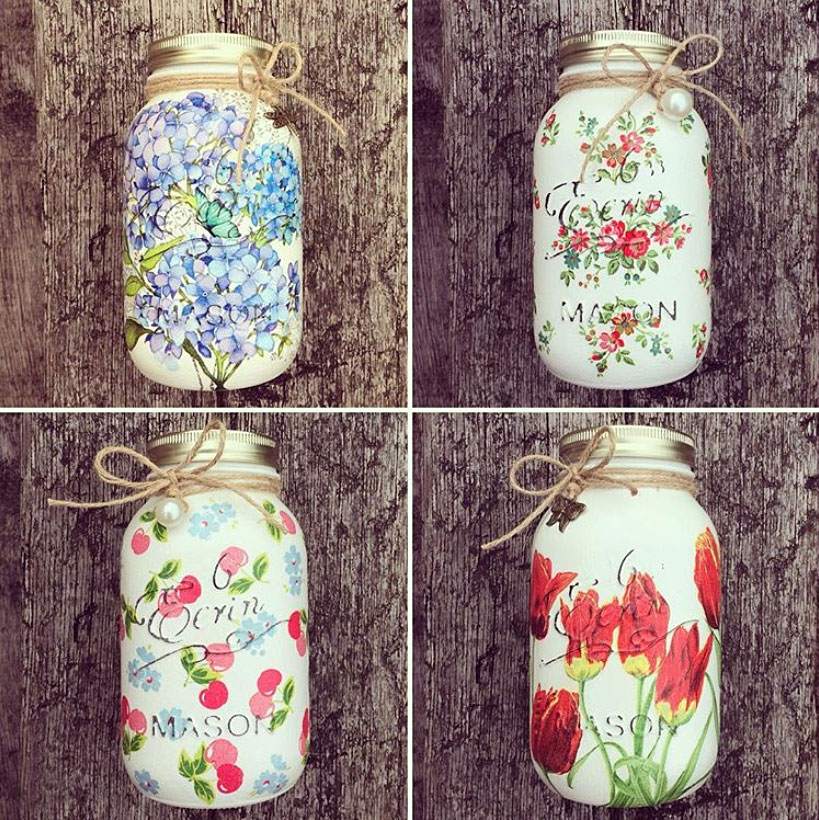 Mod Podge Flower Covered Mason Jars
These jars pictured Cath Kidston paper prints but since they are only available in the UK we found some other fun floral papers. Clean your Mason jar with alcohol first to remove any oil. If you don't the paint may chip off. Brush a coat of cream-color acrylic paint or chalk paint over the whole Mason jar. Let it dry. Depending on how much paper you are going to use, you may need to paint the jar again. Let dry thoroughly, about 15 minutes. Cut floral designs from the scrapbook paper or use the entire sheet and add Mod Podge to the back. Smooth the flowers onto the jar to create the design you want. Floral paper napkins also work well. Separate the layers and only use the design layer. Finish the a top coat of Mod Podge. You can finish off your jars with twine wrapped around the neck of the jar and maybe even add a bead to the ends.
photo source: @cottondalecraft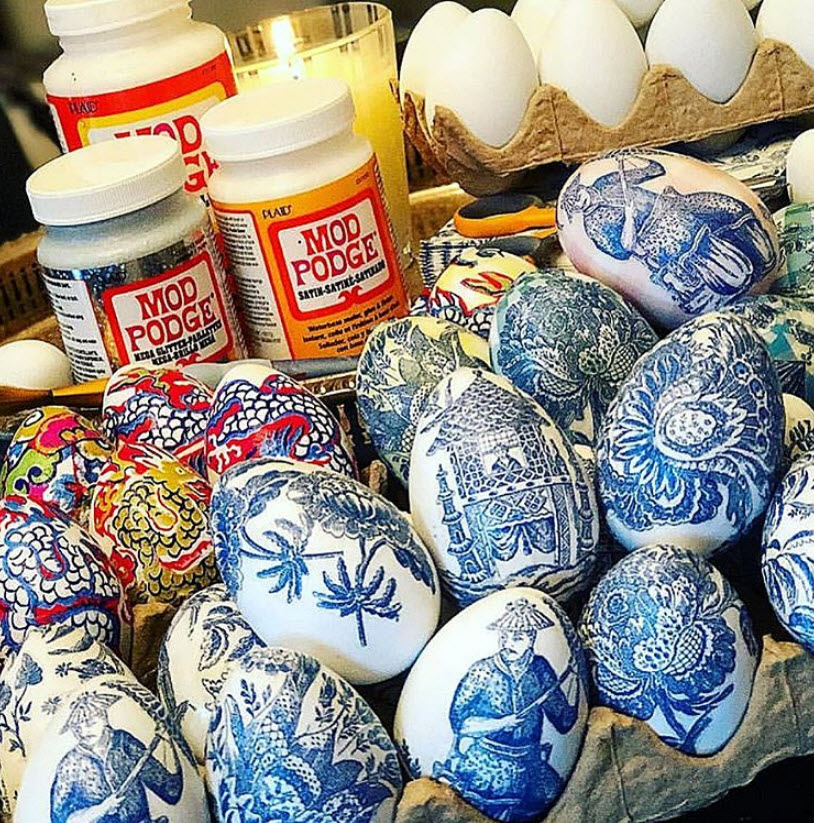 Mod Podge Easter Eggs with Chinese Paper Napkins
This is a unique take on an Easter Egg design. Start with white plastic Easter Eggs. Because they look like real eggs and not those cheap plastic colored eggs you find in most stores, you get a more realistic look. Next you will need some paper napkins. We found red Chinese Dragon cocktails napkins and Blue Caspari napkins that look similar to the ones in the photo above. Using a pair of scissors, cut out the designs you want to use from the napkins. Separate the two pieces of napkin so you only have the top design layer. Brush a very small amount of Mod Podge on the egg, lay the design on top and then gently smooth the design over the egg with more Mod Podge. Go slowly and don't use a lot of Mod Podge or you will tear the napkin.
photo source @totallytikaa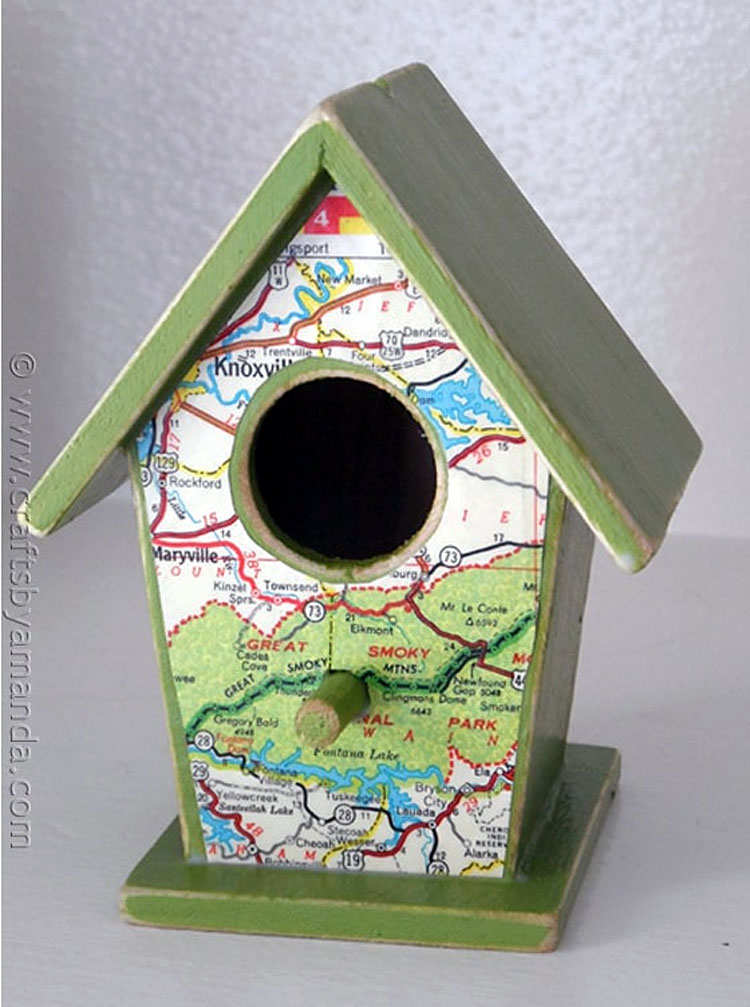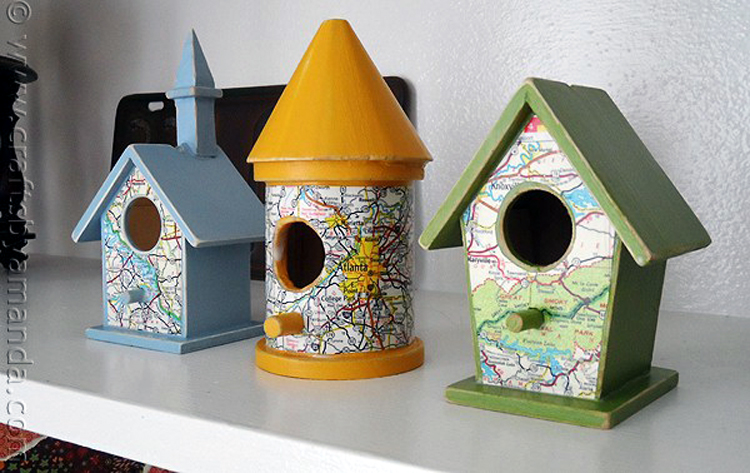 Decoupage a map of your state to one side of a wood birdhouses and then paint the rest of the birdhouse with colors that match the maps to coordinate.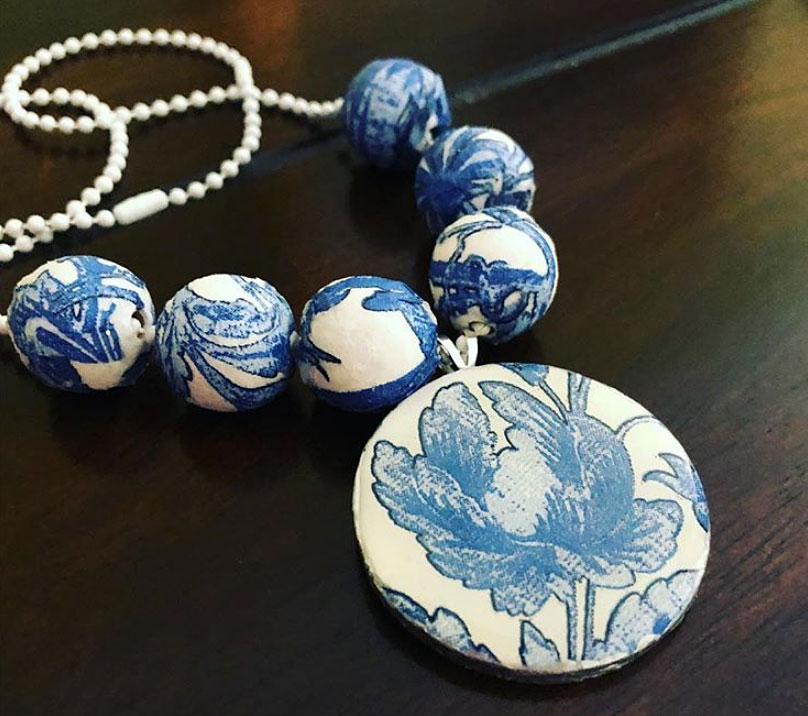 Faux Broken China Necklace
Coming with the blue theme, we have an easy project that looks stunning. This is a faux version of the popular broken china necklace use blue flower paper napkins, a wood disk, wood beads, Mod Podge and ball chain. This project is super simple and can be whipped up super fast.
Tutorial: cathiefilian.com
---
Disclaimer: The information found in each project is presented in good faith. Results are not guaranteed. If you have a question about any of these Mod Podge craft projects, visit each website and contact the original designer.