Get inspired by rustic wood centerpieces that you can use to decorate your dining room table, a bench by the window, or even a wedding table centerpiece. Rustic wood makes these natural centerpieces fit in with many home decor settings.
Add Clear or Chalk painted Mason jars to a wood planter and then fill the jars with florals or greenery. Faux or real florals such as lavender, hydrangea or peonies or greenery such as faux boxwoods, will make your centerpiece pop with color. Stones and shells are also good centerpiece fillers. Pillar candles, small pumpkins, boxwoods pieces, and other baubles transform your simple wood box into an awesome centerpiece. The designs choices are endless.
To help you get inspired, we have put together a collection of 10 beautiful wood centerpieces boxes that do not require much skill beyond some basic crafting knowledge.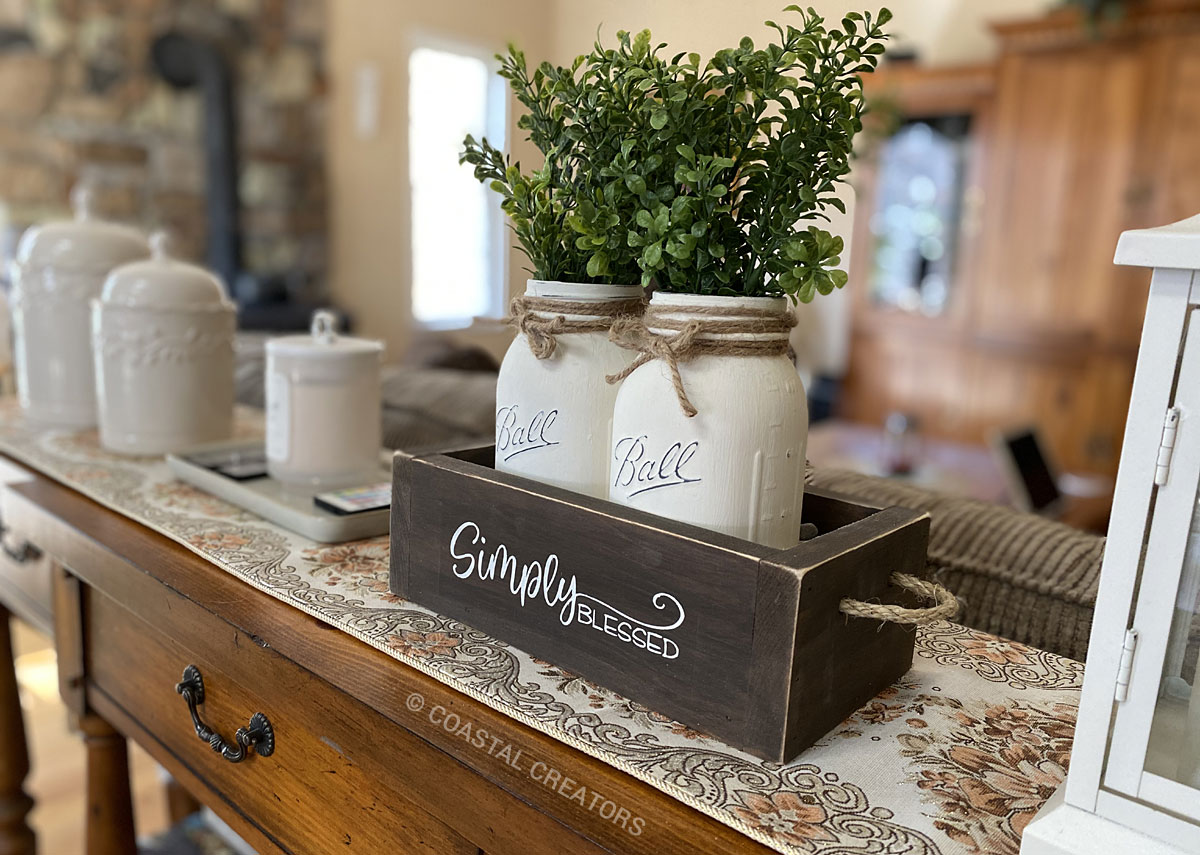 1. Simply Blessed Rustic Wood Centerpiece Box
This is our own design. We actually used new pine boards to create our wood centerpiece box. We then painted the box with an Espresso brown acrylic paint, and used a sanding block to give it that rustic look, especially on the corner. Instead of buying handles, we made our own out of rope and attached them by drilling two holes in each end of the box and forming knots inside of the box.
The Simply Blessed wording is a vinyl cutout using the Cricut machine. You can create a vinyl stencil and paint the words on, or use white vinyl and create a vinyl sticker, which is much less mess. Once everything was finished we added pea gravel inside of the box around the chalk painted Mason jars to complete our look.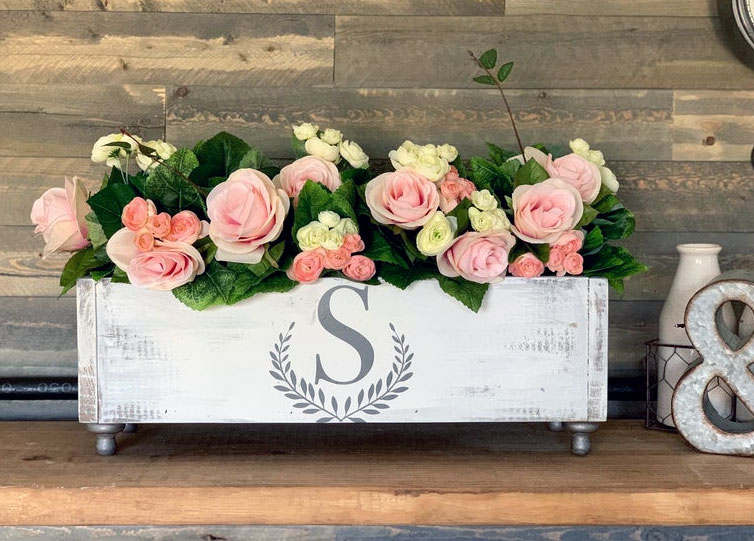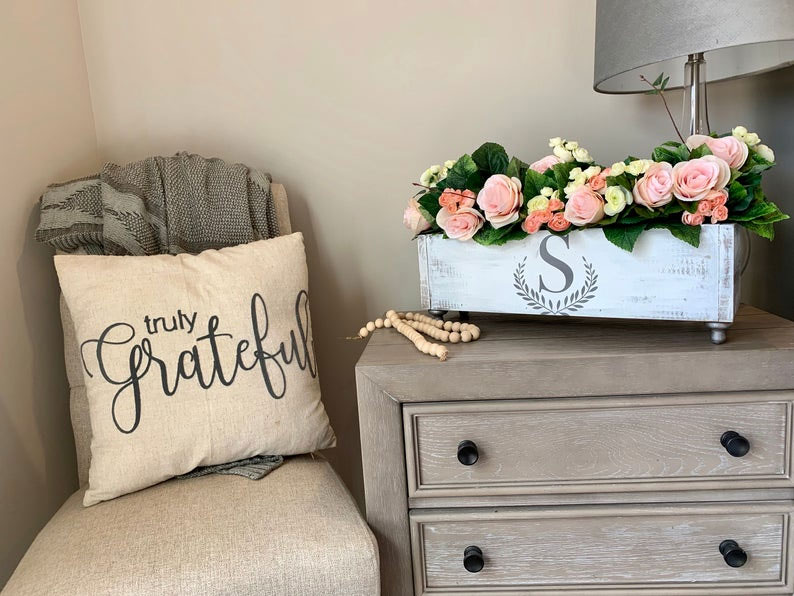 2. Monogrammed Wood Centerpiece Box
Not a fan of mason jars? This centerpiece is a rustic farmhouse planter box that stands are four homemade pegs to elevate its beauty. Add a monogram to make a custom piece. Perfect as a wedding gift. Fill it with peonies or roses for a chic look.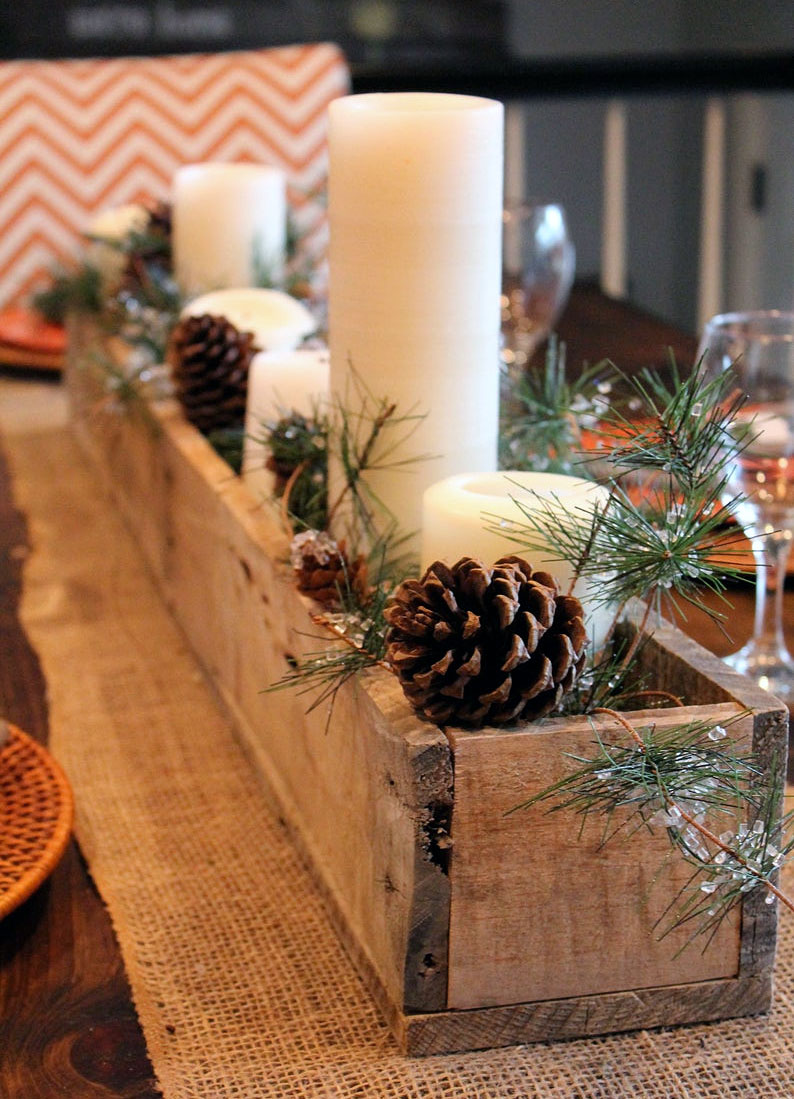 3. Reclaimed Wood Centerpiece Box
This is one of the most versatile centerpiece you'll ever own! These centerpiece boxes can be used for decorating any season or occasion. This box is handmade from rustic weathered pallet and barn wood. Because these boxes are handcrafted, the look of the wood will vary, as no two pieces of wood are the same.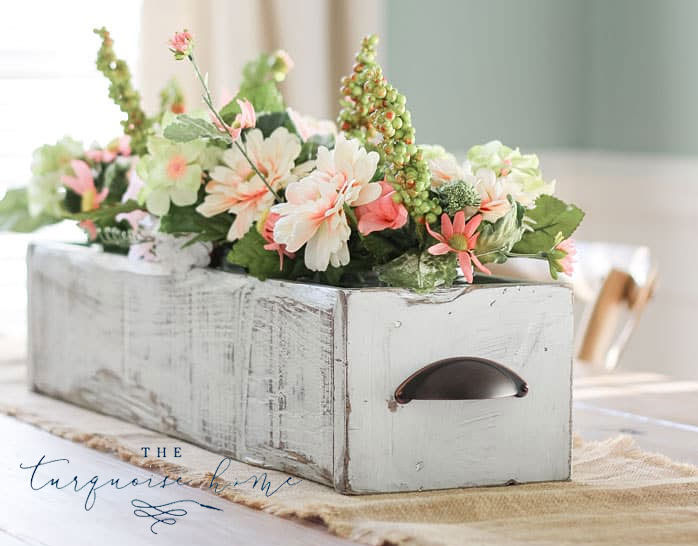 4. DIY Farmhouse Wooden Box Centerpiece
This DIY Farmhouse Wooden Box Centerpiece was made with rustic wood, a few screws and some paint. It's a super simple project and works up as a cute centerpiece for your table, mantel or wherever you want to put it! The simple elegance of a rustic box with flowers will warm your heart and it's perfect for spring or decorated for fall or Christmas with greeneries.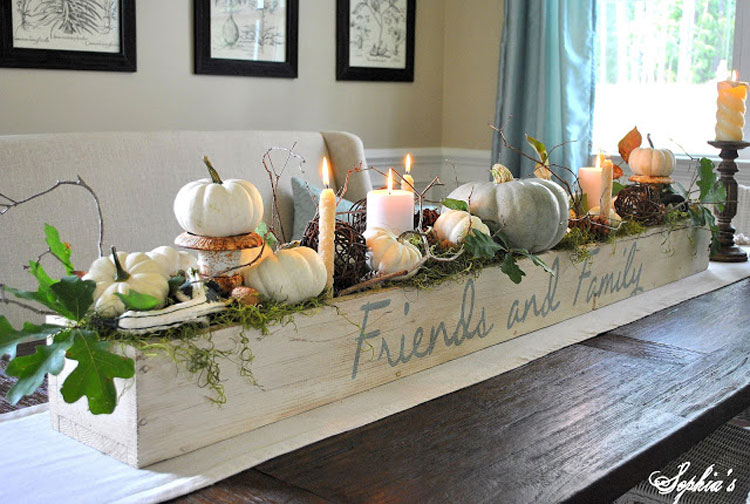 5. Rustic Wood Centerpiece for a Long Table
Are you hosting a dinner on the patio or on the terrace? Think of highlighting the long table with a rectangular rustic wood box centerpiece, decorated to your personal taste.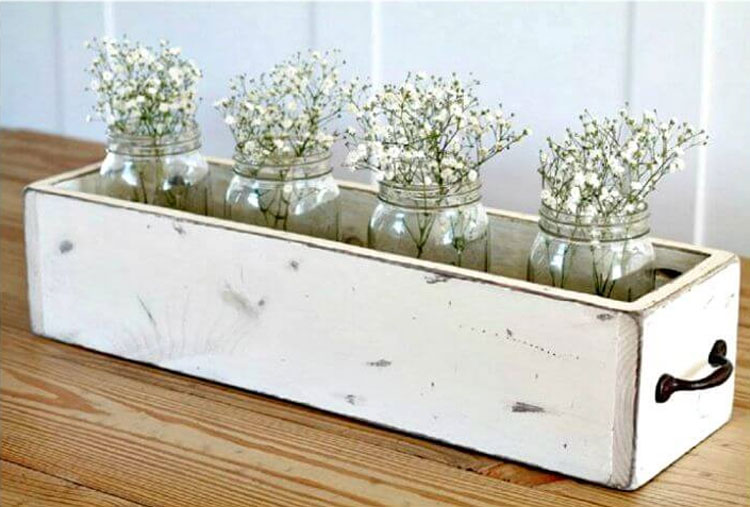 We have a tutorial to show you how to make this wooden box
6. Rustic Wedding Wood Centerpiece Box
Add a little rustic flair to your wedding table with this wood centerpiece box with handles. This also makes a lovely gift for new couples. Fill the box with glass jars filled with babies breath or roses.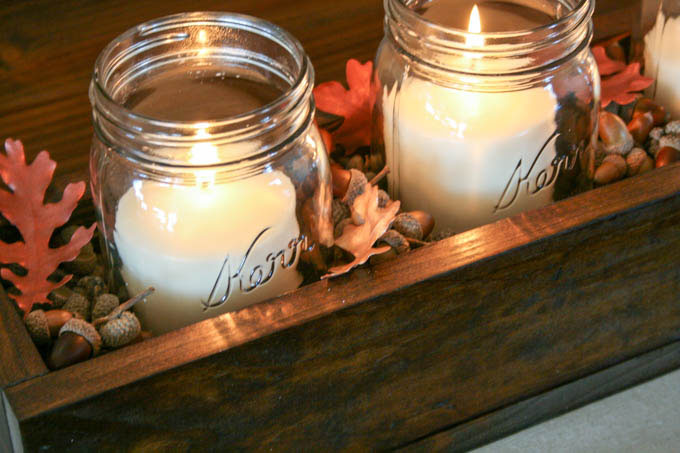 7. Candlelit Fall Inspired Wood Centerpiece
You will need Mason or Kerr jars and pillar candles to create this look. During the Fall season, fill a wooden centerpiece box with acorns, leaves, cinnamon sticks, mini pumpkins and more.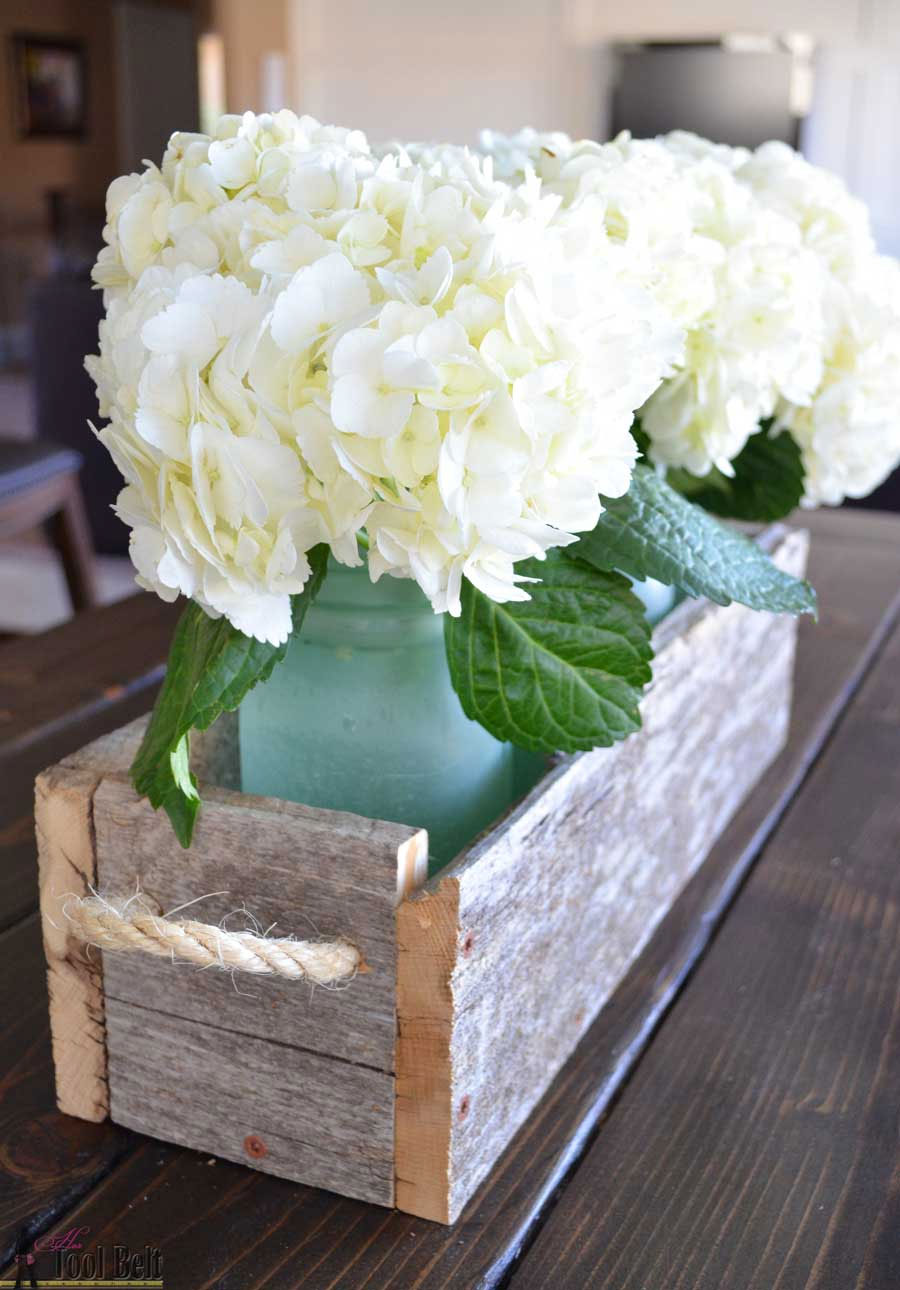 The secret work is reclaimed.
8. Reclaimed Wood Centerpiece Box
We're back to Mason jar decor because we find these jars to be so versatile. These Mason jars have been tinted with a Sea Glass spray to make them look like they are made out of sea glass. The wood box is made out of reclaimed barn wood. White hydrangeas complete our decorative wood centerpiece box.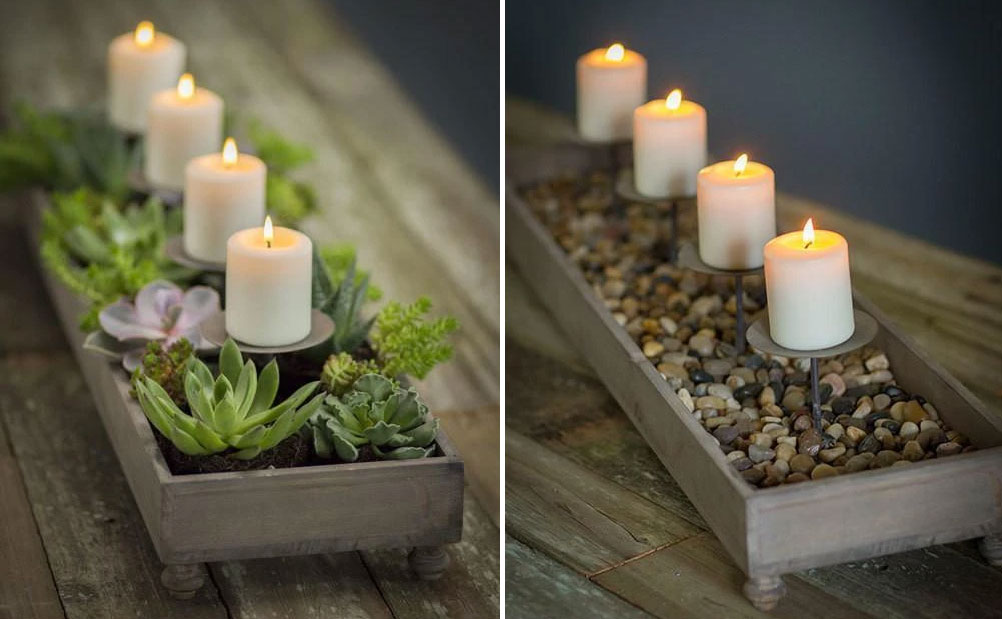 9. Wood Centerpiece Box with Raised Feet
Illuminate your dining table while displaying candles surrounded by succulents. This versatile wood centerpiece box serves as a candle holder and planter for real or faux succulents. Fill it with rocks, moss, plants, wine corks and more. The little feet elevate this wood box to give it a unique look to any decor.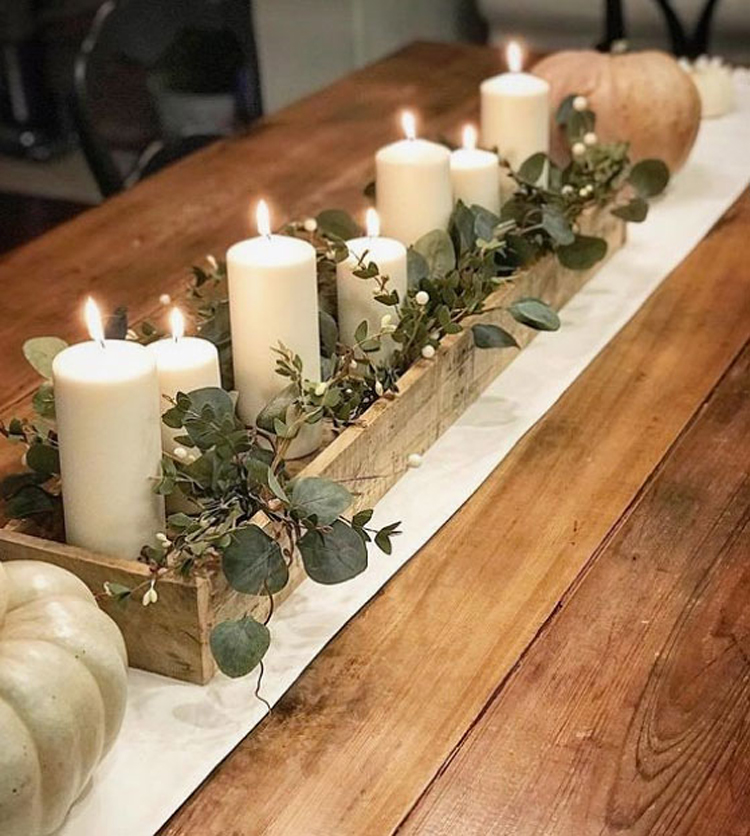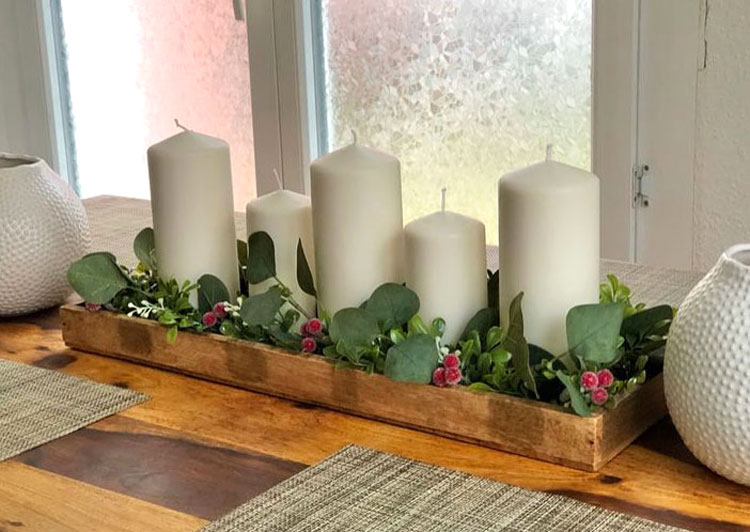 10. IKEA Pillar Candles & Eucalyptus Centerpiece
The glow from candles can add atmosphere to any moment as they light up dark. Complete your seasonal décor with festive and elegant white candles, berries and vines.
Do you want to make your own wood Centerpiece box?
We have full step-by-step instructions.